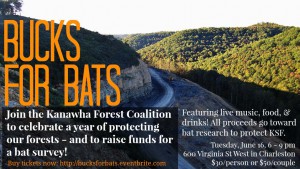 Bucks for Bats Fundraising Party
6 – 9 p.m. on June 16 at 600 Virginia St WEST (entrance on Couch St), In Charleston, WV
Tickets: $30 for one/$50 for two
Come party with the Kanawha Forest Coalition on June 16 from 6-9 p.m.! We're gathering friends and supporters, with great live music, food, and drink, to celebrate a year of organizing to save our mountains — and to help fund our latest effort: a scientific bat survey of a few abandoned mine portals inside Kanawha State Forest.
PLEASE NOTE: RSVP'ing on Facebook doesn't guarantee admission! We don't expect to sell out, but we encourage you to buy tickets now at http://bucksforbats.eventbrite.com/.
We all think blowing up a mountain next to Kanawha State Forest and polluting the water is such a bad idea, yet our legal stand hinges on things like the cute little northern long-eared bat, which is newly listed as "threatened" by the US Fish and Wildlife Service.
The evening will be hosted by Karan Ireland, and will feature:
– Celtic/jive dance music of the Contrarians;
– The crystalline voice and lovely stage presence of Kathi Elkins singing the nature songs we grew up with and inciting some sing along-ing for those who like to;
– A few songs by funny guy Stephen Hill (of "Julie Adams and Steve Hill," the Mountain Stage band, and formerly with the Putnam County Pickers);
– and wrapping up with a solid set of the not-to-be-missed Adam Cox and Beth Segesseman. Maybe you remember Beth from her flute playing in Comparsa? Adam's original songs and guitar playing, and Beth on back-up and flute make a fantastic musical team!
Plus, most of your favorite bat experts and KD#2-battle super heroes will be on hand to keep us thoughtful of what we're fighting for.
We'll also have great food and drinks provided by local chefs and breweries. Buy your tickets now:
http://bucksforbats.eventbrite.com/
If you can't be there but would like to support our organizing efforts and the bat survey, you can make a donation here: https://actionnetwork.org/fundraising/help-stop-mountaintop-removal-mining-next-to-kanawha-state-forest-no-kd2-mine-on-middlelick-mtn
Or, to make it tax-deductible, donate through our fiscal sponsor here: https://donatenow.networkforgood.org/KFC/