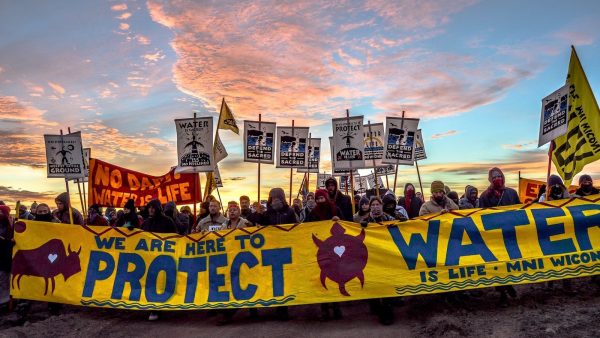 Are you hearing the call to stand with Standing Rock? People are mobilizing around the world to stop the Dakota Access Pipeline. It's our time to show that Appalachia stands with the Native water protectors at Standing Rock (Rezpect Our Water!), and to call on the Army Corps of Engineers to stop the pipeline!
Please join us for a solidarity rally in front of the U.S. Army Corps of Engineers headquarters in Huntington, WV, at 12:30 p.m. on Tuesday, November 15.  This event is part of an international day of solidarity with Standing Rock. 
Please share widely! 
WHAT: Appalachia Stands with Standing Rock! #NoDAPL Solidarity Rally
WHERE: Outside the Army Corps of Engineers office, 502 Eighth St, Huntington, WV (map below)
WHEN: Tuesday, November 15, 12:30 p.m.
Facebook RSVP
Want to help make signs and art for the solidarity rally? Come help out in Charleston on Nov. 10. Details here.
* * *
When water is being threatened, sacred sites are desecrated, rubber bullets, tasers, bean bags, and pepper spray are fired, continued violations of treaties and human rights, protectors being jailed, media communications being jammed, it is time we stand together in solidarity with the peoples of Standing Rock Sioux Reservation, in North Dakota, and against the Dakota Access Pipeline.
Here in West Virginia, in central Appalachia, and in the Ohio Valley, we know what it is to have our water threatened and contaminated by fossil fuel projects, from chemical spills and dumps, to pipeline and oil train explosions, to mining and fracking waste injection. We know what it is to have our state officials side with corporations, against us, when we try to defend our land and our water. And we know how our nation has trampled on the rights of indigenous peoples.
Native water protectors with the Indigenous Environmental Network have asked for supporters to hold actions across the globe on November 15, in order to (1) pressure the US Army Corps to deny the permit to bore the pipeline under the Missouri River, and (2) ask the President to require a full Environmental Impact Statement be completed before construction continues.
For those of us who can't go out to Standing Rock to protect, pray, and put our bodies on the line, we have a local pressure point: the regional headquarters of the U.S. Army Corps of Engineers, in Huntington, WV. This is one of dozens of simultaneous actions at these offices across the country. 
For all these reasons, come to Huntington on November 15 for a lunch-hour rally in support of those defending Mother Earth at Standing Rock.
Bring a sign or banner (no wooden posts, please), or get one on arrival. We'll have speakers, songs, and chants, and we'll STAND WITH STANDING ROCK!
* * *
You can donate to the Standing Rock Sioux Tribes NODAPL Fund here.
Sign the Stop the Dakota Access Pipeline petition here.
Our friends at RAMPS will be accepting donations to be taken out to Standing Rock:
• very warm, good condition winter coats, sweaters, and other winter wear
• insulated Carhartt-type coveralls, overalls, coats
• sleeping bags for subzero temperatures
• gift cards – Lowes, Menards, Amazon, Verizon
• tents that can stand up to high winds, snow, subzero temperatures
• small wood stoves
• or other items from this list (except for firewood).
---
Army Corps of Engineers,  Huntington, WV
[eo_venue_map venue="army-corps-of-engineers"]