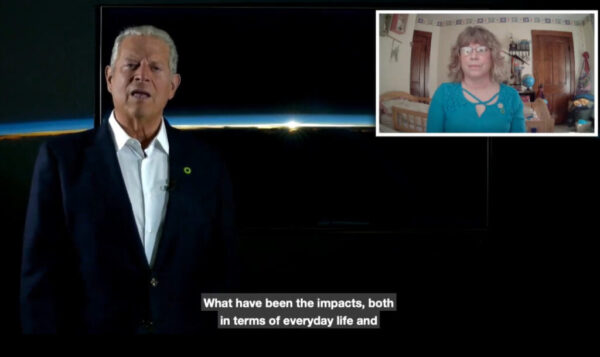 On October 11, former Vice President Al Gore said, "I'm excited to welcome Dr. Randi Pokladnik, a retired research chemist who has become a very passionate and effective environmental activist with the Ohio Valley Environmental Coalition."
He spoke those words as part of 24 Hours of Reality: Countdown to the Future, which took place October 10–11, hosted by The Climate Reality Project. (Above, a screen shot from the virtual event. Yup, that's Randi on the right.)
For 24 straight hours, Climate Reality Leader activists in 85 countries across the globe led digital presentations and discussions exploring the historic conjunction of climate change, COVID-19, and structural racism that not only threatens our lives and deepest values, but also opens the door to truly transformative change.
Vice President Gore spoke with Randi about the impacts of the fossil fuel industry on her community near Uhrichsville, OH.
In introducing Randi, he noted that her community is facing an encroachment from the expansion of the fracking industry. He said:
One of the reasons we have to accelerate this just transition to clean energy and get away from burning coal, oil, and gas, is not just that it is creating a climate crisis. It is also because, as I said, it creates other kinds of pollution.
The infrastructure associated with oil and gas—refineries, pipelines, compressors—results in the dumping of all kinds of toxic chemicals not only into the air, but also into the water.
The people who are paying the greatest price for this pollution, again, predominantly live in low-income communities. A lot of them are people who are suffering from other discrimination. A lot of people are really fighting heroically against these attacks on the environment.
According to the Climate Reality Project, Randi was one of only four "incredible activists from around the globe who are making real differences in their communities" who were selected to share their stories directly with the former vice president during this event.  
The others were Chibeze Ezekiel of Ghana, Uili Lousi of Tonga, and Dr. Erika Pires Ramos of Brazil. You can see this part of the 24-hour program online here. Randi's segment starts at about 51 minutes into the video.
On October 10, the day before she spoke with Vice President Gore, Randi gave one of the many presentations of the 24 Hours of Reality event. Randi's "Climate 101" presentation beamed out live worldwide from OVEC's Facebook page. (Thanks so much to OVEC staff member Sarah Carballo for taking care of the technical aspects.) In her talk, Randi discusses some of the basic science of the climate crisis and its impacts on human health; shows how man-made greenhouse gas emissions are exacerbating disasters like wildfires, glacier melt, and hurricanes; and highlights ways we can reduce our carbon footprint.
Scientists warn that unless we radically reduce fossil fuel emissions by 2030 and reach net zero by 2050, global warming could rise above 1.5 degrees Celsius and unleash a series of unprecedented and irreversible impacts in our region and across the world.
If you missed Randi's Climate 101 you can find it on our YouTube channel (OVEC WV) under the title 24 Hours of Reality: Countdown to the Future with Dr. Randi Pokladnik.
———-
In prepping for her talk with Vice President Gore, Randi wrote out the answers to two questions. The questions and her written responses are below. 
Question 1: In what ways have oil and gas development changed your community? What have been the impacts, both in everyday life and in community health?
Back in 1998, my husband and I bought four acres in the woods of southeast Ohio, where we intended to retire, and built our dream eco-log home. We had never heard of fracking and never thought that one day our county would be the third most-fracked county in Ohio. High-pressure hydraulic fracking arrived in 2015, and within five years the infrastructure that accompanies oil and gas extraction was spreading throughout southeast Ohio like a cancer on the landscape.
Oil and gas landmen crowded the county courthouse, searching for property and owners willing to lease their mineral rights. No mention was made of the environmental or the health effects that fracking might bring, and property owners seemed mainly concerned about getting the best offer for the gas under their acreages.
What was once an idyllic rural setting became an industrial zone. Well pads were built in hollows and forested areas. Lakes and streams in the region became water sources. The stars in the night skies disappeared as the bright lights from well pads and flaring operations obscured them.
Pipelines crisscross the hillsides carrying the fracked gas to compressor stations, refineries, and fractionators. Streams and waterways are blasted and forests clear-cut to accommodate frack pads, access roads, and pipelines. Pipelines have exploded and people are subjected to toxic air emissions. Rural roads are death traps traveled by water and brine trucks, sand trucks, and chemical tankers. Fracking also releases fugitive methane emissions that contribute to climate change.
Another disturbing effect of fracking and the petrochemical buildup is that our communities are as fractured as the shale gas bedrock. Neighbors choose sides in the fight over jobs versus the environment. Our communities are so polarized that people are even reluctant to discuss health effects and illnesses that could be linked to the industry. Scientists know that exposure to petrochemicals, such as benzene, causes endocrine disruption, as well as cancer and other health issues.
There are also social and economic issues to consider along with the health impacts. Fracking brings a transient workforce into rural communities. Rent prices have skyrocketed. Drug abuse, as well as sexually transmitted disease, has increased in communities around fracking operations.
Currently, the Ohio River Valley is being targeted as the next petrochemical hub of the USA, the next Cancer Alley. All the fracking produces natural gas liquids, including huge volumes of ethane, which will be used to make single-use plastics. The Falcon pipeline cuts across the northern portion of the county where I live, and it will carry ethane to Shell's Monaca, PA, plastics cracker plant. Once operational, this plant will make a million tons of plastic a year and emit an amount of carbon dioxide equivalent to 500,000 cars (2.2 million tons yearly).
Question 2: How can we respectfully reach out and build a sense of common purpose in smaller towns and rural communities so people see they don't have to sacrifice their health to feed their families and are ready to join us in working for a just transition to clean energy? 
As is often the case in Appalachia, people have resigned themselves to believing that there are only two choices: jobs or a healthy environment. They have accepted the role of a sacrificial population, paying the price for the USA's economic prosperity but never partaking in that prosperity. But this doesn't have to be the future of the region. We can reinvent a new Appalachia, one that can sustain communities, not destroy them, and that allows people to prosper without killing them, their families, and the landscape.
How can we respectfully reach out and build a sense of common purpose in smaller towns and rural communities so people see they don't have to sacrifice their health to feed their families and are ready to join us in working for a just transition to clean energy?
The Ohio Valley Environmental Coalition, the grassroots group that I volunteer for in West Virginia, is one example of people reaching out within communities to find a common sense of purpose and goals. We can have healthy, sustainable communities, but we need to really engage local stakeholders and listen to their concerns and develop relationships. This is not an easy task in a world so divided and where people have little to no time to build coalitions. But it can happen.
People need to feel empowered, not powerless; they need to be inspired to visualize a different path and move away from extractive industries. We need to see ourselves as agents of change. We know that this is possible. We can have benefits like clean energy, regenerative agriculture, energy efficient homes, and mass transit.
OVEC is part of the People Over Petro coalition that aims to stop the petrochemical buildup in the Ohio River Valley. Coalition members also include Freshwater Accountability Project, Concerned Ohio River Residents, Mid-Ohio Valley Climate Action, and the Climate Reality Project.