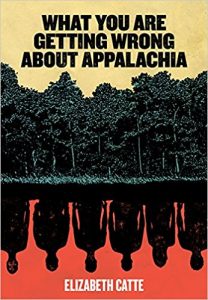 In this powerful little book of 132 pages, Dr. Elizabeth Catte rises to eloquence at times in exploding myths and stereotypes about the Appalachian region of the United States, a region that totally surrounds and includes all of West Virginia, the only state that lies wholly in the region.
Much errata—what we think we know about this region and the people who inhabit it has been, and is, continuously perpetuated—even by people from the region. Among her lofty targets,
Catte notes an old classic by Henry Caudill, Night Comes to the Cumberlands, and reads of people who are poor, disheveled, ignorant, who simply do not know any better than to live the
way they live. They apparently are all white, uniquely deficient intellectually, genetically dammed by the place they call home. Hillbilly Elegy, a hugely popular memoir by an accomplished and erudite Appalachian, she notes, expresses much the same view (although he is obviously not an example of it).
This is what we get wrong:
For one, Catte avers that "Trump Country" includes all the places in all the states that Trump
won in 2016, not, as pundits claim, not only Appalachia or one sparsely populated county in
southwest West Virginia. It is emblematic of the disenchantment that people all over the country felt
and still feel: left out, unheard, purposely neglected and demeaned by wealthy, elite interests.
The "Trump Country" slogan denies the reality that Bernie Sanders also won large parts of
Appalachia. These two extremes belie the tepid differences between the Republican and
Democrat parties in states like West Virginia (for example, both remain excited about the
viability of coal production and thus, mountaintop removal, an environmental disaster), so slight
that many voters simply do not rise to the polls with an expressed vote.
Hillbilly Elegy and its author, J.D. Vance, have been given world-wide acclaim. It will soon
become a Ron Howard Hollywood movie, which says much about how stereotypes become
realities. However, Catte states that those who know the real Appalachia may feel that it does
nothing to inform about the racially diverse and proud, passionate people who successfully eke
and hone their way through the region's mountains and valleys.
Catte paints a vivid visual picture of people who fit the stereotype (and some who do not),
since photographs of the forlorn seem to pique more interest than pictures of people living the
lives of those who would look at them, live. As fine as her descriptions are, the inclusion of a
photograph or two which Catte believes show the best examples of how the stereotypes are
cemented, and broken, would be something I would have liked to see.
According to Catte, what we get wrong about Appalachia is the sheer strength of people
continually fighting against corporate wealth and corrupt political forces, to reclaim what has
been wrested from them since Civil War times. The real Appalachia includes the struggles at
Blair Mountain, Paint Creek, Cabin Creek, and Matewan—and, most recently and successfully,
the West Virginia teacher's strike!
Catte has her avatars; and Catte herself surely is one of them. Her book makes a pointed call-to-
arms, tagging on to the history depicted in productions like, West Virginia, A Film History,
arming against false impressions, and arming for present and future fights for the rights of a
people industrious and determined to prevail against forces of inequality which exist not only in
Appalachia, but in the entire United States of America.
A note from OVEC: Save the date! Please mark your calendars for September 15. 2018 for OVEC's new annual meeting (combining of annual picnic and our Treehuggers' Ball)! 
Our keynote speaker for this event will be Dr. Elizabeth Catte, author of What You Are Getting Wrong About Appalachia.