J.D. Vance's wildly successful memoir and first book, Hillbilly Elegy, has been on the New York Times best seller list for weeks with accolades far and wide. While Vance's accomplishments at 31, including a law degree from Yale, are laudable, the social and cultural analysis of Appalachia and its people he puts forth lacks depth and historical perspective.
Before he was born, Vance's family moved from the poverty of a coal county in southeastern Kentucky to a steel town, Middletown, OH. The odds were stacked against his success, considering his mostly absent father, a self-absorbed, addicted mother, a drunken grandfather, and a forceful, crude-speaking grandmother, not to mention the other "colorful" family members and neighbors that helped shape his childhood.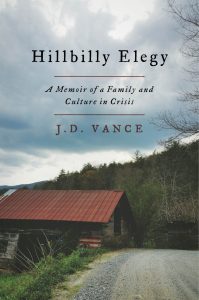 Distressingly, Vance's broad-brush approach reinforces the same old, tired stereo-types that have dehumanized and plagued the people of our region for more than a century. Unfortunately, the nation appears hungry for this derogatory cliché; and because of Vance's current acclaim, people outside our region will continue to believe that Appalachia consists primarily of no-good, drunken/drugged, violent, impoverished and uneducated hillbillies who, solely by their own accord, lack drive and ambition.
Throughout, Vance manages to reinforce this stereotype; I could almost hear the soundtrack from "Deliverance" twanging as I turned the pages. He overlooks the darker and largely untaught history of Appalachia and ignores the century-plus exploitation of the people of this region by (outside) extractive industries (especially coal). Industrialists excelled at abusing our people and the environment, including cheating many out of their land and natural resources.
Vance's readers don't learn about the brutality of heartless coal bosses who booted families from company-owned houses in the dead of winter, who paid miners in company scrip instead of dollars, or the miners' struggle to unionize during the bloody Mine Wars of the 1920s. Additionally, there's not a whiff about the politicians at all levels of government who have assisted the coal industry, in their near total domination of the people and the land.
Where coal became King, it was the only game in town with a captive workforce. Miners who tried to organize for better working conditions were met with intimidation, harassment, violence and even death. Fast-forward to 2017 where much of the overt abuse of mine workers and their families has ended, as the coal industry sharply declines. Nevertheless, coal companies still exert excessive control in this region.
It stands to reason that such long-term, abusive treatment plays a major role in shaping the lives and psyche of our people today. Residents of the coal regions clearly see how little they are valued. As they take an honest look at their communities, they know that they have been robbed—not only of their valuable land and natural resources, but also their dignity. Despite the "billion dollar" coal fields, these coal-bearing counties are still some of the poorest in the nation.
Additionally, with the onset of mountaintop removal strip mining of coal, we have witnessed not only the annihilation of mountain ranges, but also our home places and communities.
The lack of ambition and control Vance refers is not the fault of Appalachians. The years of systemic exploitation and heavy-handed control by the extractive industries, and the political establishment that kowtows to these industries, underlies the generational poverty, domestic violence, and current drug/alcohol addiction.
Incidentally, as a born and bred Appalachian (7th-generation), I've yet to encounter a single person like his near murderous Mamaw. Undoubtedly, horribly broken families like Vance's do exist in Appalachia, but as they exist here, they also exist elsewhere.