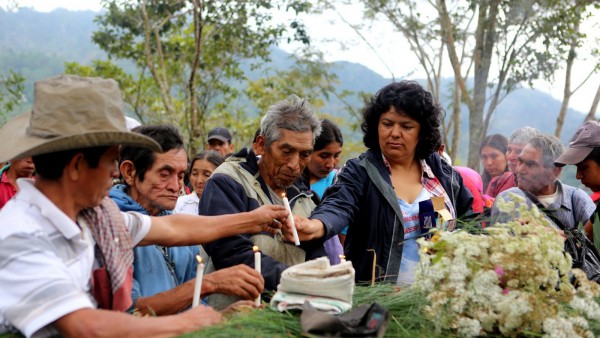 People around the world are horrified and grieving over the tragic assassination of Berta Cáceres. (Photo courtesy Goldman Environmental Prize)
Sign the petition: Urge immediate protection for Gustavo Castro, injured during the assassination of Berta Cáceres
Sign the petition: Congress: Probe Assassination of Berta Caceres in Honduras
The Goldman Prize released a statement:
Berta Cáceres, an indigenous Lenca woman who won the 2015 Goldman Environmental Prize for her fearless work to defend the Gualcarque River, its surrounding environment and people from the Agua Zarca Dam, was killed by gunmen last night (March 2, 2016) in her home in La Esperanza, Honduras.
"On behalf of my siblings Doug Goldman and Susie Gelman, Prize jury, and staff, I'd like to express my deepest condolences to her family, friends, and colleagues at COPINH and around the world," said John Goldman, President of the Goldman Environmental Foundation. "She was a fearless environmental hero. She understood the risks that came with her work, but continued to lead her community with amazing strength and conviction."
Several Goldman Environmental Prize winners are reeling from the loss of a fellow grassroots activist:
"No one should die trying to do the right thing." (Maria Gunnoe, USA);
"My soul weeps for Berta and the planet." (Craig Williams, USA);
"We draw strength from her life and her death to continue her work here." (Atherton Martin, Dominica)
As detailed in a 2015 report from Global Witness, Honduras is the most dangerous country in the world for environmental activists. Prize staff is working with Global Witness and other partners to demand that the Honduran government conduct a full investigation into the killing, take immediate measures to ensure the safety of the Cáceres family, and grant protection for activists in Honduras.
"We mourn the loss of an inspirational leader, and will honor her life's work by continuing to highlight the courageous work of Goldman Prize winners like Berta," said Goldman. "She built an incredible community of grassroots activists in Honduras, who will carry on the campaign she fought and died for."
Global Witness drafted a letter to President Hernández of Honduras, asking for an immediate and thorough investigation and guaranteed protection for her family and colleagues. More than 50 organizations have signed on to the letter. The letter has been sent directly to the President via the Honduras Embassy in U.S. Below is the letter, in both English and Spanish.
Public-Letter-to-President-Hernandez-of-Honduras

Carta-Publica-Dirigida-Al-Presidente-Hernandez-de-Honduras

May Berta Cáceres' family and fellow campaigners draw comfort from one another. May her death lead to an end to intimidation and violence for those who take a stand for the Earth. May justice prevail.