The fabulous Jessie Smith Noyes Foundation has funded OVEC for years. Noyes knows that small grassroots groups like ours are making a real difference in the world. They also know we face big issues and that we need to funding to increase our capacity on the ground. That's why Noyes has started a campaign to get donor advised funds into the hands of grassroots groups across the country.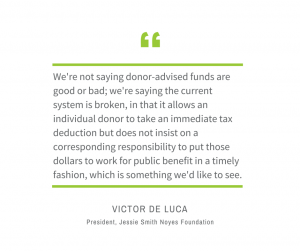 Currently, more than $50 billion in donors advised funds are waiting to be contributed to nonprofit organizations. Imagine what $50 billion can do to advance social justice!
Donor advised funds were created to increase charitable contributions by individuals. Offered by community and public foundations and financial institutions, donor advised funds allow donors to make a contribution and take an immediate tax deduction without having to decide until a later date what nonprofit organizations will receive the money.
Established in the 1990s, donor advised funds have attracted an increasing number of contributions in recent years. Yet there is no legal requirement that obligates these contributed funds to be distributed within a specific time frame. By allowing significant amounts of tax-exempt, charitable funds to sit idle, donors are missing current opportunities to address pressing social problems and promote the public good.
The Jessie Smith Noyes Foundation calls on donors to make more timely allocations from their donor advised funds. Timely allocations of funding from donor advised funds can really have a positive impact on what groups like OVEC are able to achieve.
When it comes to your donor advised fund, Noyes can act as a guide to your giving by recommending vetted nonprofits for direct contribution. Visit noyes.org/50billion to learn more about donor advised funds and what financial advisors can do. ‬