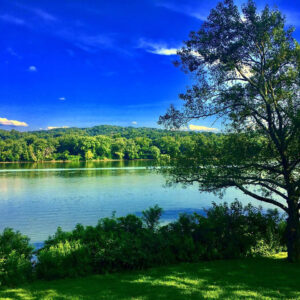 I alone cannot change the world,
but I can cast a stone across the water to create many ripples                                                                                                 ~ Mother Teresa
The summer of 2019 is OVEC's 32nd summer of existence—we've been working with people like you for more than three decades to defend our communities and the environment we all depend on—the land, water, soil, and air that make up our beautiful life support system. 
In a political climate like that of West Virginia, this is difficult work. What sustains us? The answer, as the quote above suggests, is the ripple effect of our work, and the wonderful, caring people such as you who make it happen.
Like the story of the young boy throwing starfish into the sea, we haven't saved every mountain, or protected every stream, or stopped every polluting business from being built. However, every victory we have achieved together has made a difference, generating an amazing ripple effect.
Our work to stop or limit mountaintop removal permits has saved flora, fauna, and communities. More recently, our collaborative work to preserve historic Blair Mountain opens the door of opportunity for increased tourism in our state and the promotion of a sense of pride of our history.
Over the years, our assorted campaigns—such as stopping the pulp mill, limiting the discharge of pollution into streams, obtaining a moratorium on underground coal slurry injection, stopping out-of- state garbage from being shipped to our region, and obtaining municipal water for communities with contaminated drinking water—have no doubt resulted in cleaner water, cleaner air, and healthier communities. Our health, heritage, and homeplace are all in better shape because of the work you help support.
Every day, people such as you are metaphorically throwing the stones that make our successes possible and creating the ripple effect of positive change. OVEC volunteers monitor streams, edit our publications, write letters to the editor, table at events, speak at hearings, help with fundraising, attend rallies, conduct educational outreach, and participate in a host of other activities. You support OVEC financially through your memberships and generous donations, and you provide words of encouragement and optimism. For all of this, we are deeply grateful.
As we look to the coming year, we want to be open about a concern that we have. Over the past couple of years, and through no fault of our own, we have lost a substantial amount of funding from philanthropic foundations. Some of our long-term funders have changed the focus of their giving. Others have spent down all their funds or reduced the amounts of their grants, and we have "timed out" for other foundations. We continue to seek new sources of funding. We have no doubt that we will be able to continue our good work, but we really need your help. Simply put, it is more important than ever that we receive support through membership renewals, new memberships, and donations.
If you have recently sent a donation, we can't thank you enough. If you have not donated lately, or are able to send an additional gift, we ask that you do so now. Our goal is to raise $30,000 by the end of August to support our program work, and to pay for some needed technology and equipment. Some of our equipment needs include blinds for some of the office windows, display cases for tabling, and a portable solar generator we can use to power our sound system at protests and other events.
Here's how much we've raised as of August 30:

With the current push for the development of pipelines and a massive petrochemical complex associated with the Appalachian Storage Hub, we really feel like we are at a crossroads; either we remain an energy sacrifice zone and become the new "plastics belt" for the nation, or we demand a new reality based on a clean, healthy environment, and the development of a sustainable economy powered by renewable energy.
Please help us choose the cleaner, greener path: donate online at ohvec.org/donate. Donations to OVEC are tax deductible. With your help, we will continue "making waves" for polluting industries, and creating the ripples of change that can transform our region and improve the world.