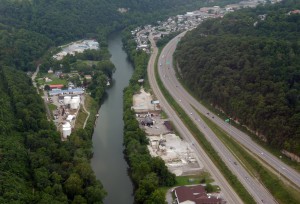 OVEC member Jim Hatfield was a research scientist at Union Carbide for 25 years. Jim, who lives in St. Albans, holds a PhD in chemical engineering. 
Below is the letter he sent to the Bureau for Public Health in October regarding the Source Water Protection Plan here for the Charleston area. You may find some useful information in the letter that will help you as you prep for the Rally and Public Hearing on WV American Water's 2014 water crisis response on January 17.  Click here to read some suggested talking points for the hearing.
Twelve steps to Improve West Virginia American Water's Source Water Protection Plan
(PWSID WV3302016) for the Kanawha Valley water treatment plant
1.
An alternate raw water supply for the Kanawha Valley treatment plant is urgent and of the highest priority. Until a second source is functional, the treatment plant remains highly and unnecessarily vulnerable to chemical spills in the Elk River.
This urgency requires at least quarterly public updates (in the newspaper, as public service announcements, on social media, WVAW website, etc.) from WVAW to communicate progress and the project's current status. These updates should include clear graphics such as decision trees and timelines to keep the public informed and assure them the project is moving forward. Updates should also provide a forum for continuing public input and discourse on this fundamental component of a safe drinking water system.
2.
Having a second source in place on January 9, 2014 – together with continuous upstream chemical monitoring that incorporates a TOC [total organic carbon] analyzer (also see steps 4, 5, 12) – would have eliminated needless and widespread stress and suffering, well over $100 M in wasted resources and hundreds of hours of legal and investigative toil over the subsequent three years. Given the urgent need for another raw water source, the Kanawha River option and a reservoir option must be pushed forward at the same time until one is the clear winner. Adding another raw water source amounts to a major change in the design of the public water system and must trigger additional opportunities for public input. This input should occur through public meetings, quarterly updates described in step 1 and the citizen/technical advisory committees described in step 10.
3.
As a reservoir site, the proximity and potential cost savings of Coonskin Park deserves further study until more detailed analysis shows it simply cannot work. Although it is reasonable to ask, "Can we build a reservoir at Coonskin Park?" the more purposeful question is, "What will it take to build a reservoir at Coonskin Park?" All assumptions as to why WVAW cannot buy or lease the land must be re-examined from new perspectives. Several public/private partnership configurations must be proposed and studied.
4.
In a Charleston Gazette Op-Ed (ref 1 which is also attached at the end of this report), we described the difference between the organic chemical detector currently part of WVAW's continuous monitoring system and a Total Organic Carbon (TOC) analyzer. Serious shortcomings of the former include its inability to detect an entire class of organic chemicals including MCHM (it would not have helped on January 9, 2014) and major components of diesel fuel.
The attached Gazette op-ed also points out that the preferred analyzer, the "best practices" TOC, is inexpensive compared to the protection it provides. In addition, this analyzer is used in water treatment plants such as Morgantown, Pittsburgh, Columbus, Cincinnati, Louisville and Roanoke, by the chemical industry in the Kanawha Valley and at the South Charleston Waste Water Treatment Plant. It is widely accepted in the water industry and should be the only organic analyzer used in the Kanawha Valley water treatment plant as well.
5.
What good does it do to have continuous chemical monitoring located at the plant inlet? One positive aspect is operator accessibility which helps build confidence and familiarity with this vital technology. In addition, because of its convenient location, an array of monitors already is in place and collecting data on the Elk River's chemical profile. Furthermore, a monitor array at the inlet provides a degree of redundancy for an upsteam monitoring station and it also generates important information during emergencies (see step 12).
In a spill emergency, however, warning from monitors at the plant inlet comes TOO LATE to protect the treatment plant and distribution system.
Continuous chemical monitoring, regardless of how problematic (how to build an almost tamper-proof monitoring station separate from WVAW's treatment plant, one that is also impervious to river traffic, flooding, ice floes, etc.) must occur UPSTREAM of the intake to protect the public drinking water system. Similar to the "can do" attitude called for in step 3, there is no question as to its need and the real question is, "What will it take to build it?"
6.
When a chemical spill occurs, intake closure can be maximized by incorporating management of treated water tank levels into automated control of the treatment plant. This approach keeps the plant in a permanent state of readiness to shut the intake while the Elk River sweeps the threatening chemical spill downstream. Time "fixes" the contaminated river in this sense and, in the meantime, treated water tanks feed the distribution system.
The levels in key storage tanks are monitored in this control scheme as are reactions that produce disinfection byproducts. This degree of automation is not unreasonable; it is within the ability of digital control to simultaneously manage collections of valves, pipes, tanks and reactions so as to optimize the duration of intake closure. Although 24/7 human oversight complements such control, it cannot match its ability to keep the plant in constant readiness for a chemical spill.
This strategy minimizes operating risk at all times and is even more important until an alternative source of raw water and continuous upstream monitoring are in place.
7.
Develop a cooperative arrangement with ORSANCO for a rapid deployment team equipped with portable GC and TOC instruments to track the location of chemical plumes. The instrumentation is readily available and permits rapid sample analysis at river's edge. The methodology is already practiced in large part by ORSANCO. In chemical spill events, this data complements upstream continuous monitoring in Source Water Protection Areas where it already exists and provides essential knowledge where it does not.
This capability upgrades the safety and reliability of the Elk River watershed and the Kanawha Valley water treatment plant and should be expanded State-wide. Three regional teams, for example, on call from their normal work in local water districts, could fill this emergency roll. Another participant would be the West Virginia Rural Water Association. Cooperation with adjoining states is a natural extension given the geography of West Virginia and the interstate nature of rivers and chemical spills.
8.
West Virginia is known for its mining. The water system (WVAW, BPH, DEP, PSC, etc.) must "mine" its own massive seams of data on chemical spills – their cause, location, frequency, size, response time, impact and resolution. This must be a coordinated, system-wide and on-going project. The goal is a perpetual learning cycle with spinoffs of better communication, response times and strategies.
9.
Consider the following points which are not exhaustive:
(A) It has been pointed out that Freedom's storm water permit, authorized by the 1991Groundwater Protection Act (H.B. 2377), should have been more vigorously enforced by the DEP. (ref 2)
(B) Three times between 2006 and 2008, WVAW told State regulators they were planning to survey upstream for potential contamination sources. (ref 3)
(C) As early as 2002, a SWAPP prepared by the WV BPH listed and field verified the Etowah Terminal (Freedom Industries site) as a potential source of drinking water contamination. It called for periodic surveys of the watershed. It recommended that "Protection efforts should focus on the collection of additional information on the point and non-point sources present to evaluate the risk." (ref 4)
(D) The PSC calls for 15% unaccounted-for water, but 30% to 40% of the water produced by the Kanawha Valley water treatment plant never reaches its customers' taps. (ref 5)
In other words, the system is not working the way it is supposed to. Key vulnerabilities that helped set the stage for the Freedom spill and the subsequent contamination of the public drinking water were clearly described and underscored 15 years ago. There is a need for increased accountability / oversight / transparency to assure all stakeholders, especially those who drink its water, that the water system is working according to published regulations.
To minimize future contamination events, it is essential to annually publish an audit prepared by an independent, third-party, an entity unassociated with American Water Works or West Virginia American Water Company or the State of West Virginia. The audit must explore the question, "is the water system 'really' working the way it is 'supposed' to be working as described in the SWPP, PSC recommendations, State code and other relevant guidelines?" Furthermore, the audit must be presented annually at a public hearing. The purpose of these steps is to permanently eliminate issues known to contribute to the 2014 water crisis and to create a mechanism that encourages on-going public participation in and on-going improvement of the water system.
10.
The current Source Water Protection Plans are an echo of what happened 15 years ago with the West Virginia Source Water Assessment and Protection Program submitted to the Environmental Protection Agency on August 1, 1999 (ref 6). The Program called for significant State-wide public participation in the Source Water Assessment Plans prepared by Public Water Systems and the Bureau for Public Health; two of the five principal SWAP requirements for each area were (A) making the assessment available to the public and (B) public stakeholder involvement. The Program also established Technical Advisory and Citizen's Advisory Committees to address the "technical feasibility and effectiveness" of the Program as well as its "desirability and appropriateness." To make our current version of this Program sustainable, we must revive and formalize citizen participation in the form of such Advisory Committees.
11.
When the next chemical plume approaches the Kanawha Valley water treatment plant, the emergency plan must trigger extra sampling routines. At minimum and in accordance with Good Laboratory Practice (GLP), water samples must be taken at the treatment plant inlet and outlet every 30 minutes throughout the emergency. Carbon samples from select carbon beds must be taken with the same frequency. The Advisory Committee (see step 10) will refine and likely enlarge this sample schedule. Quantitative, post-emergency analysis of these samples will provide a quantitative basis to continuously improve routine and emergency management of the water system. Quantitative, post-emergency analysis of such samples following the January 9 water crisis was impossible because they were not taken, preventing valuable learning opportunities.
12.
Throughout the next chemical spill emergency, continuous TOC monitoring at the plant inlet and outlet is essential. These sampling points will corroborate the 30 minute samples described in step 11. Also, continuous monitoring at the outlet will pinpoint chemical breach of the treatment plant, alert emergency managers and provide another layer of protection for the public.
References
(1)
Charleston Gazette Op-Ed, April 29, 2015, There's a better way to monitor water for pollutants, Philip Price and Jim Hatfield. (This article is attached)
http://www.wvgazettemail.com/article/20150429/GZ04/150429167/1453
(2)
Charleston Gazette, January 8, 2015, A year later: Chemical spills continue, and so do questions, Ken Ward Jr.
http://www.wvgazettemail.com/article/20150108/GZ01/150109388/1405
(3)
Charleston Gazette, August 17, 2014, p. A1, W.Va. American repeatedly delayed Elk protection plan: Company cites lack of adequate funding, Ken Ward Jr.
http://www.wvha.org/Media/NewsScan/2014/August/8-18-W-Va-American-Water-repeatedly-delayed-locati.aspx
(4)
State of West Virginia Source Water Assessment and Protection Program, Source Water Assessment Report WVAWC – Kanawha Valley, Kanawha County, PWSID: 3302016, July 29, 2002.
(5)
Source Water Protection Plan, West Virginia American Water, Kanawha Valley Water System, PWSID WV3302016, Kanawha County, WVBPH Submittal, Public Version, June 2016.
(6)
State of West Virginia Source Water Assessment and Protection Program, West Virginia Department of Health and Human Resources, Bureau for Public Health, Office of Environmental Health Services, Environmental Engineering Division, August 1, 1999.
Charleston Gazette Op-Ed
Philip Price and Jim Hatfield: A better way to monitor water
April 29, 2015
http://www.wvgazettemail.com/article/20150429/GZ04/150429167/1453
CHARLESTON, W.Va. — Last year's chemical leak quickly spread throughout West Virginia American Water's Charleston-based distribution system. The water company has announced it will start a continuous monitoring program on the Elk River. Such monitoring is a critical element of a safe water system that detects contamination before it reaches customers.
In a January report to the Legislature, West Virginia American Water described plans to install monitoring equipment to measure water properties like acidity, temperature, salts, minerals and trace organic chemicals.
Unfortunately, the instrument they chose to detect organic chemicals — total organic carbon — has serious limitations and is blind to a broad class of chemicals which includes, remarkably, MCHM, the chemical culprit of last year's water crisis.
Thousands of pounds of MCHM remain in the soil at the Freedom Industries site just one mile upstream of the Elk River treatment plant intake. The chemical class not detected also includes significant components of diesel fuel and other chemicals, all potential spill candidates and transported by truck and train in the Kanawha Valley.
There are two types of TOC instruments. The simplest and least expensive is to shine ultraviolet light through a water sample to detect pollutants. But this works only for chemicals that absorb UV light.
In contrast, higher-quality instruments perform a chemical reaction to detect all possible trace organic pollutants and measure their concentration. This is the more inclusive "best practices" instrument already used by major water plants, including plants in Morgantown, Pittsburgh, Columbus, Cincinnati, Louisville and Roanoke, as well as by the chemical industry here in the Kanawha Valley and the South Charleston Waste Water Treatment Plant.
Deficiencies of the UV instrument, compared to the higher-quality analyzer, are well-documented. In 2012 EPA testing, UV sensors detected only half of the pollutants detected by higher-quality TOC analyzers. That report also stated: "diesel fuel did not exhibit sufficient absorption at 254 [nanometers] at the concentration used in this study to be detected."
More recent research commissioned by Gov. Earl Ray Tomblin found that water solutions of MCHM show no useful UV absorbance, according to Andrew J. Whelton in "Environmental Science & Technology" (Dec. 16, 2014).
The benefit/cost ratio of the higher-quality TOC analyzer is huge. The 2014 water crisis cost the water company over $12 million. Its price tag for the regional economy is estimated at over $75 million. Twenty high-quality TOC analyzers would cost just 1 percent of the damage to our regional economy.
But West Virginia American Water needs only two, one at the intake and the other farther upstream as an early warning system.
Because such large volumes of chemicals are produced/stored/transported here in central West Virginia and because WVAW's Elk River plant is charged with supplying safe and pure water to one-sixth of the state's residents, in a nine-county region, the higher-quality "best practices" TOC instrument must be used to protect the water system.
Continuous monitoring of the Elk River is the simplest, least expensive and most immediate step that we can take toward a safe water system in the Kanawha Valley. Isn't it time we moved forward to effectively monitor for spills and protect our public health?
Philip Price is an analytical chemist with experience in trace chemical measurements, Superfund site investigations and environmental chemistry. Jim Hatfield is a chemical engineer with expertise in measurement and control systems. Both worked for decades at Union Carbide and are members of Advocates for a Safe Water System (advocatesforasafewater@gmail.com).