Ohio Valley Environmental Coalition
Action Alert


Supporting Organized Voices and
Empowered Communities Since 1987
 

May 3, 2021

View / Comment Online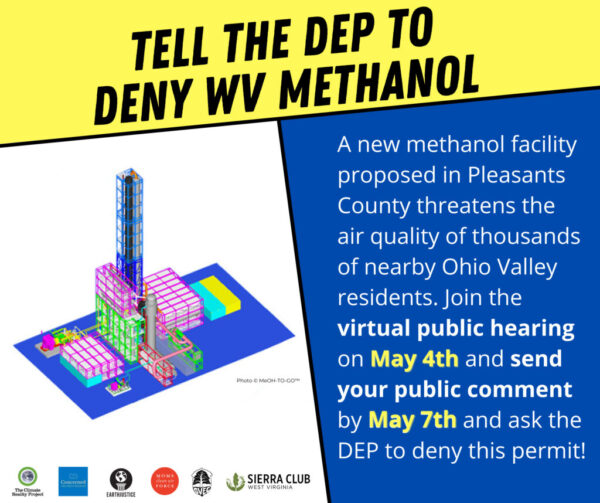 A new methanol facility proposed in Pleasants County threatens the air quality of thousands of nearby Ohio Valley residents. Send your public comment by May 7th and ask the DEP to deny this permit!
Submit a comment today, before the May 7 deadline! Tell the West Virginia Department of Environmental Protection to stop this toxic methanol facility permit. Don't forget to personalize your message, too!
Governor Jim Justice announced the project in the fall of 2020, promising 30 "high-paying" jobs. But, there are concerns about the cost to folks living around the facility, which appears poised to release toxins including methanol, formaldehyde, and other hazardous air pollutants. Despite these risks, WVDEP is proposing to allow the facility to be permitted as a "minor source", avoiding any analysis of the pollution and cumulative impacts from this proposed facility and other facilities on nearby communities. We need to stop this facility to prevent our communities being targeted by additional, toxic fracking and petrochemical sites in the future. The time to act is NOW!
Additionally, this type of facility, the MeOH-To-Go™ modular facility, appears never to have been constructed in the United States: more scrutiny of the permit must be taken and additional expert opinions must be sought when issuing timelines for "new" technologies. 
We are still in a global pandemic and families are struggling to stay healthy and stay afloat. Permitting a facility that promises to bring additional risk to public health—without robust public education—is irresponsible. A virtual public hearing is being held tomorrow, May 4 at 6 pm.
Your health, safety, and the environment is at stake — submit a comment today! Send the West Virginia Department of Environmental Protection an email asking them to deny the permits to WV Methanol.
Please visit this DEP event page and use the link at the bottom of that page to register for the hearing. You must register by 5 pm Tuesday to participate.
The written comment period ends on Friday, May 7. Please send written comments via email to Joseph Kessler at Joseph.R.Kessler@wv.gov with "West Virginia Methanol" in the subject line.
For more on the proposal, read this article from the Charleston Gazette-Mail.
Sample Messages to WVDEP:
WV DEP has not been transparent or timely with its posted notifications. This comment period should have been extended beyond the one week, and a public information meeting should've been scheduled well in advance of a span of days.
This is a step backward for West Virginia. The proposed petrochemical buildout and the attendant "Appalachian Storage Hub" risks the health and safety of West Virginians and should be stopped.
This facility should be permitted as a major source, and modeling should be done to gain information about the impact to nearby communities. The current permit application must be denied.