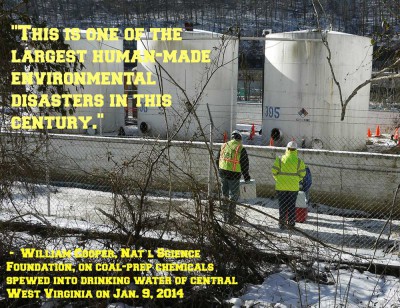 Today, the WV House introduced HB 2574, a bill which would gut many of the important provisions achieved by SB 373, the Above Ground Storage Tank bill.
The WV Legislature unanimously enacted SB 373 in 2014 in the wake of the MCHM pollution of the Charleston WV American Water municipal water intake in the Elk River. One of the provisions of SB 373 which is conveniently omitted in HB 2574 is that of reporting spills to the public!
Don't let this happen! Defend our Water! 
It took intense citizen pressure to pass SB 373, and we need to build that pressure again to preserve the improvements to water regulation gained in that bill. Act fast because this bill (HB 2574) seems fast tracked, with only one committee reference (House Judiciary).
Click here to contact YOUR elected leaders in the House. Sample letter below.
Find more information and a list of delegates on the House Judiciary Committee here in a post,from Our Water WV. This news article from Ken Ward Jr. at the Charleston Gazette gives a lot of background information. There's also this quick e-action from WV Rivers Coalition, but please, if you have the time, write your own letter —  you'll make a bigger impact.
Here is a sample letter, submitted today to the House Judiciary Committee members; feel free to utilize it as the basis for your own letter:
Please don't gut the 2014 Senate Bill 373 (the Above Ground Storage Tank Act)!
By limiting the regulations only to tanks larger than 10,000 gallons and within the "zone of critical concern" of a drinking water intake, HB 2574 will do that and will also eliminate the requirement that such tanks be inspected annually.
It entirely exempts from regulation the oil and gas industry by exempting: "[d]evices that are used to store brines, crude oil, or any other fluids that are directly related to the exploration, development, stimulation, completion, or production of crude oil or natural gas"; "Pipeline facilities, including gathering lines"; and "Liquid traps, atmospheric and pressure vessels, or associated gathering lines related to oil or gas production and gathering operations". These operations are leaching, leaking and spilling tons of harmful pollutants into streams in the northern part of our state NOW, and soon may be in other parts of the state, especially with the impending development of the Rogersville Shale field (which underlies Cabell, Wayne, Lincoln, Putnam, Kanawha, Boone and portions of other counties).
West Virginia's waters should be considered our most precious resource and protected as such. Keeping SB 373 intact and fully enforcing it is the only way to ensure that will happen!
A few weeks ago, Downstream Strategies and the WV Rivers Coalition released a report that shows just what the impact of this bill would be. The authors analyzed the tanks registered under SB 373 and found that:
About 3,100 of the 47,000 registered tanks are located in a zone of critical concern. But almost half of all tanks are within 1,000 feet of surface water.
Approximately 3/4 of the tanks are associated with the oil & gas industry
4% of the oil & gas tanks are within a zone of critical concern and another 40% (or about 14,000 tanks) are within 1,000 feet of surface water
By gutting SB 373 in the way that this bill (HB 2574) proposes, tens of thousands of tanks would be exempted – many of which are within 1,000 feet of surface water and some of which are actually in the zone of critical concern of a drinking water intake (but belong to the oil & gas industry).
Act now; our clean drinking water is at stake!