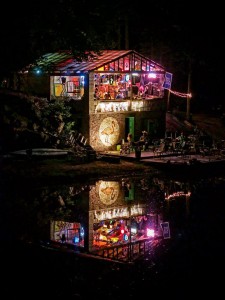 Ya'll come on out! Dave Cooper with Mountain Justice shares the following information:
Mountain Justice Summer Camp and Supermoon Music Festival
June 14-22 on top of Pine Mountain in eastern Kentucky
The 10th Annual Mountain Justice Summer Camp is scheduled for June 14-22 on top of beautiful Pine Mountain in eastern Kentucky near Whitesburg. Registration for the summer camp is now live and everyone concerned about the future of Appalachia's forests, water systems and mountains is invited! The low-cost
registration includes all meals, tent camping and workshops and activities for the week.
The Mountain Justice camp will be followed immediately by a cool festival called Supermoon Music and Arts Festival, featuring Rising Appalachia, Vessel, and The New Old Cavalry and many more.
The Mountain Justice Summer campsite will be at the magical place called Wiley's Last Resort. Wiley's has a mountaintop campground with a gorgeous mixed-mesophytic forest, Kentucky wildflowers, blooming rhododendron and flame azalea, salamanders and snakes and some black bears.
There is lots of great hiking on site at Mars Rocks, the nearby Bad Branch Nature Preserve waterfall, a magnificent view from High Rocks on top of Pine Mountain, The Pine Mountain Trail for hiking, the Little Shepherd Trail for driving, and much more. There are some very fun mountain biking trails and roads on Wiley's property, so bring your mountain bike!
The Mountain Justice camp will feature evening campfires with some live music around the fire, group meals lovingly prepared by our volunteer kitchen crew, plus hand-made composting toilets, solar showers, and a huge Greenpeace solar-powered truck called Rolling Sunlight to power the festival. There are amazing sunset views from the top of the mountain.
There are lots of interesting places to tent camp on the mountain, in the woods or on the main campground, and a wonderful spring-fed mountain pond for swimming and boating at the site of an old mountain resort, which is being lovingly restored by Wiley's visionary proprietor, Kentucky poet, radio personality and activist Jim Webb.
Mountain Justice Summer camp will offer a wide variety of speakers and workshops related to mountaintop removal and building a new economy in the mountains. Evening panel discussions include Mountain Women, a History of Resistance in Appalachia, Appalachian Youth and Appalachian Culture. Evening entertainment includes live music, dancing and documentary films about Appalachian history, music and culture.
Over 100 young people and Appalachian activists will spend a week at Mountain Justice Summer learning, strategizing and planning actions, determined to end the practice of mountaintop removal and moving eastern Kentucky towards a more sustainable economy: One that is based on building the local community and not destroying the environment which will sustain future generations of Appalachians. Have fun and make new friends at Mountain Justice Summer!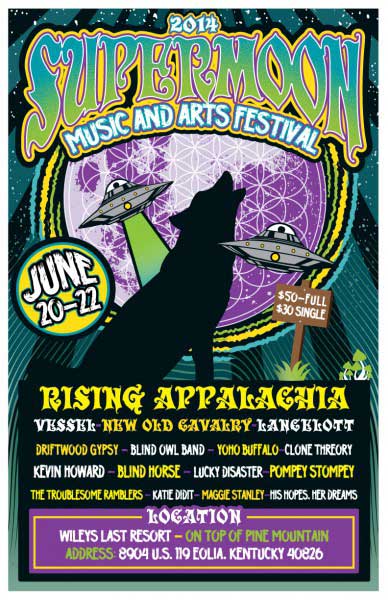 Mountain Justice has been organizing our summer training camps and alternative spring breaks for ten years with an all-volunteer crew. There are no corporate sponsors, and all camp organizers are volunteers.
The Mountain Justice camp will be followed immediately by the Supermoon Music and Arts Festival at Wileys the weekend of June 20-22. About 500 people are expected for Supermoon, now in its second year.
The headliner for the Supermoon Festival is the wildly popular roots band Rising Appalachia, Vessel from Louisville and a great young band from Bloomington, Indiana called The New Old Cavalry. A complete lineup for the Supermoon can be found here and tickets are now available.
We hope to see you there! Register now here.