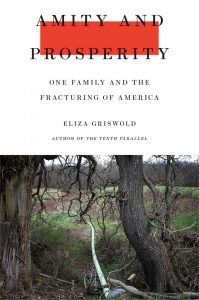 After reading two reviews of this recently published book, I was interested enough to ask my local library, the Roane County Library, to purchase it. They did. Now I've read it and am writing another review, for you.
The good: Griswold is an excellent writer. The book was captivating and illuminating.
The bad: it only left me angrier than I already was about the way governments at all levels are colluding with industry to protect profits at the expense of ordinary people. This book had an even sadder element, as it seems the people who happened to get the bad end of the deal when fracking came to their area (the southwest corner of Pennsylvania) were ostracized by people they'd known all their lives… some of them freshly enriched with gas royalty checks and unwilling to believe there was a downside to the gas boom. Even worse: many embraced the boom because they knew they'd been harmed by the coal industry, specifically with longwall mining that undermined and damaged homes and water supplies—yet somehow they thought a new fossil fuel industry was the only alternative.
For me, the book had a somewhat personal element as it's set in an area where I worked as an organizer in 2004/2005. I was trying to contest the longwall mining, a fairly hopeless task. The treasurer of the group I worked for lived in an adjacent town to Amity, one of the towns named in the book's title. Incidentally, it's a wonderful title; the action takes place near these two small towns, and affects the levels of both prosperity and amity in the area. Another aspect of that experience came back to me forcefully at the conclusion of the book.
I visited a couple engaged in a long battle with the Consol Coal Company, which wanted to undermine their Spanish Revival house, despite its being listed with the National Register of Historic Places. When I saw the place, it was wrecked—the couple was still living in it but had to walk around supports propping up walls, and the company was delivering water (both wells and their swimming pool went dry) as well as insecticide because bugs got in through the many cracks. But I could still see how beautiful and special this place had been.
There was a lawsuit—but, they told me, a Consol spokesperson said to them, "Fine, get a lawyer. We've got 500 of them." The man speculated that Consol hoped they'd go the way of other families in similar situations, where the stress leads to divorce or breakdown, and often an eventual settlement under adverse terms because the people—being human people—can't take any more, financially or emotionally, while the corporation, an artificial "person" with all the rights but none of the limitations of humans, can go serenely on, filing endless appeals. I don't actually know what happened with that family but I heard the woman died, quite young.
The families at the heart of Amity and Prosperity were represented by a husband-and-wife legal team who carried a six-year legal battle pro bono…they hadn't done such work before but were sympathetic because they'd had a child with a serious illness, and a sick child was the central aspect of Haney v Range Resources. At one point the opposing lawyers filed a motion to force Haney's lawyers to disclose "who is paying them." Apparently they were disgruntled that ordinary people could carry on a legal battle that long, and could not imagine that these lawyers were doing that huge amount of work without pay.
So, my advice: read this book if you want a close-up look at how state and federal agencies work, and what happens to those adversely affected by drilling and fracking. But be warned it will likely leave you angry.
Don't just get angry though, get active! Join in OVEC's efforts to resist the fossil fuel industries' latest round of assaults on our people and our homeplace.