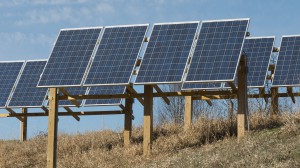 An exciting new report by Carnegie Mellon challenges the traditional way in which we discuss the benefits of renewable energy generation.
The report re-positions renewable benefits in a way that deals with the real world health effects of fossil fuel generation and carbon dioxide displacement that will be necessary going to ensure a sustainable energy future.
As energy policy expert Bill Howley explains in his blog, The Calhoun Powerline:
The Carnegie Mellon study points out that not all renewable generation is equal across the US.  Depending on the dispatch characteristics of electricity from different kinds of electricity generation, renewable generation can displace significant amounts of health damaging generation saving lots of money in health costs.  The study concludes that solar PV generation or wind generation is much more valuable in WV, where 95% of our power is generated by coal, than in areas with minimal coal-fired generation, such as CA.
Because PV in WV directly displaces coal-fired power, the health benefits, expressed in the study in monetary terms are among the highest in the US.  Here's an example from the report:
Solar panels in Indiana, Ohio, or West Virginia achieve significant health and environmental benefits by displacing coal-fired generators. Despite a poor solar resource, a 1-kW PV panel in
Ohio provides $105 in health and environmental benefits per year ($75/MWh)—15 times more than the same panel in Arizona. Remarkably, if the goal is to improve air quality and human health, Arizona and New Mexico are among the worst locations for solar.
On the basis of this analysis, either a feed-in tariff or an SREC (Solar Renewable Energy Certificates) market that would provide PV producers with at least $75/MWh (one SREC) would be justified simply in terms of the health benefits we create for everyone in WV, including the rate payers that would be subsidizing the market or the FIT (Feed in Tariff).
A Washington Post article on the Carnegie Mellon report also had a similar analysis, stating, "Likewise, a new wind farm in West Virginia can deliver more health benefits than one built in California, at least in the short term… The authors do suggest that Congress could take these regional variations into account when structuring tax benefits for clean energy. '[T]hat same investment,' they note, 'could achieve greater health, environmental, and climate benefits if it were differentiated by region'."
So, maybe it is about time — or long-past time – that policy makers on the federal level, in the West Virginia legislature and in the West Virginia Public Service Commission start looking at data like this and ramping up renewable production in our state.  The health effects of coal-fired power are only going to continue to get worse otherwise, and lowering carbon dioxide levels to prevent the worst of climate change is essential to our future and a sustainable path moving forward.