Count OVEC members and other Appalachians among the tens of thousands of people gearing up for the September 21 People's Climate March in New York City.
No matter where you are, you can support the marchers via social media.  If you are on Twitter be sure to follow and RT tweets from @CJAOurPower @GGJalliance and of course @OVEC_WV. Hashtags for the march include  #PeoplesClimate #ItTakesRoots #JustTransition and #OurPower. Over on Facebook, check in on the Our Power Campaign.
If you are not going to make it to NYC, you can join or organize an event in other locations, worldwide.
To better inform your climate march/ support, please read: Global Statement Denouncing Corporate Takeover of UN Climate Summit.
Follow the link below to take action, thanks to Corporate Accountability International, which says: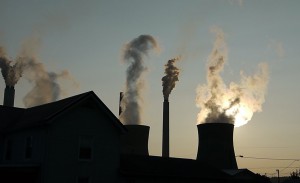 Climate change affects all of us, and it's having a devastating impact on our planet every day. But while we work to combat it, Big Energy is jumping at every opportunity during high-level climate talks to advance its own interests and undermine progress … even going as far as sponsoring the talks for the United Nations Framework Convention on Climate Change (UNFCCC).
We can't let that continue. That's why we're partnering with our friends at Rainforest Action Network to call on UN Secretary-General Ban Ki-moon and UNFCCC Executive Secretary Christiana Figueres to keep Big Energy out of the climate treaty talks and create meaningful global policies free from corporate influence. 
Tell Ban Ki-moon and Christiana Figueres: Big Energy corporations are the ones responsible for our climate change crisis. They have no place in determining policies to reverse it. 
See you on the streets or in cyberspace….