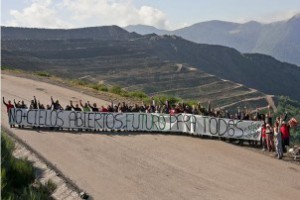 In March, OVEC issue organizer Maria Gunnoe, who is the winner of the 2009 Goldman Environmental Prize for North America, the 2012 Wallenberg Medal and assorted other awards, received a message on Facebook from Victor Rodriguez:
Muchas gracias por aceptarme como amigo, todo un honor de una luchadora contra la minería de carbón a cielo abierto. Nosotros también estamos luchando y hemos conseguido una victoria, aunque con mucho sufrimiento. un fuerte abrazo desde Laciana-León (Región de Castilla y León ) España.
Thank you very much for accepting me as a friend, a great honor of a fighter against coal open-pit mining. We're also fighting and have achieved a victory, although with much suffering. a big hug from Laciana-León (Castilla y León Region) Spain. (Translated by Bing)
Learn more via this Earth First! Newswire story: Victory: No More Mountaintop Removal Coal Mining in Laciana Valley (Spain)
April 5 Update: The Ecologist: Spain – an end to Mountain Top Removal coal in Laciana Valley
Solidarity!