Ohio Valley Environmental Coalition
Regional Action Alert


Supporting Organized Voices and
Empowered Communities Since 1987
 
View Online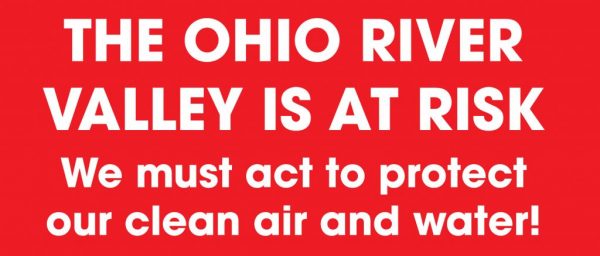 Time to Kick ASH. If you can come to the WV State Capitol on Monday, please do!
What: No PTTG: Petrochemicals and Plastics Press Conference
Residents concerned about the proposed 500-square-mile petrochemical build-up in the Ohio River Valley, known as the Appalachian Storage and Trading Hub (ASH), and its associated infrastructure, including the PTTG ethane cracker facility, will voice their concerns. 
When: Monday, March 2, 2020 from 12:30-1:30 p.m.
Where: WV State Capitol Building, Lower Rotunda, East (Attorney General side)
Who: Residents from Marshall and Ohio counties in WV, and Belmont County in OH, along with their allies. This means you! 
Why: During the 2020 West Virginia Legislative Session, many WV legislators have been promoting a so called "petrochemical renaissance" in the Ohio River Valley region, with little to no input from local community members, nor consideration of strong evidence that such infrastructure and its products are harmful to human health and the environment.
OVEC organizers have been working with folks on both sides of the Ohio River who would be impacted by the construction of the PTTG ethane cracker in Belmont County, OH. We are helping them come to the State Capitol this Monday to directly voice their opposition to this massive petrochemical plant and all of ASH to state Senators and Delegates.
If you can join us, please do! But, whether or not you can join us, please take action on the following bills, which, in one way or another, are all about that ASH:
HB4421 – Natural Gas Liquids Economic Development Act
This bill is a tax credit for storers and transporters of natural gas. Contact the Senate Economic Development committee and ask them to kill the bill should it appear on their agenda.
HB4001 – Creating West Virginia Impact Fund
This bill is Speaker Hanshaw's and passed almost unanimously on the House Floor. We don't love it because it allows for foreign investment (likely for the Appalachian Storage ad Trading Hub and downstream manufacturing). Ask Senate Finance to kill the bill.
HB4019 – Downstream Natural Gas Manufacturing Investment Tax Credit Act of 2020
This bill allows for large business and personal income tax credits for new jobs created for downstream manufacturing. We have no idea how much potential revenue we will be giving away to subsidize this industry that has yet to be created. Contact the Senate Economic Development committee to say no to this bill.
HB4615 – West Virginia Critical Infrastructure Protection Act
This bill is the anti-protest bill that further criminalizes trespassing and conspiracy to trespass. It is a dangerous ALEC bill that should die. Call Chair Charles Trump to ask him to ignore HB4615 and let it expire. In case the bill does make it to the Senate Floor, we need calls to the Senate Judiciary committee members to ask them to vote the bill down.
---
Tell Delegates to Fund Critical Needs, Say No! to Unnecessary Court
SB 275 would create an unnecessary and costly Intermediate Court of Appeals. Critical social programs are being cut in the budget to fund this boondoggle. Take easy e-action here, or better yet, compose your own note or make a call to members of the House Finance committee. To help make your case, learn more about SB 275 here.
---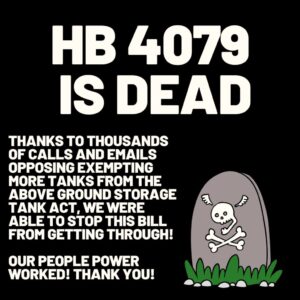 Power to People Power!
In case you are thinking: Why come out, why call, because does people power really work? Yes! People power does work. Proof positive: HB 4079 is dead. Details here.

So use that people power and come on out if you can, and please take the actions mentioned here. If you can't make it Monday, but want to learn more about petrochemicals and plastics and our efforts to make certain this isn't our region's future, reach out. Contact us at info@ohvec.org or 304-522-0246.
---
Solar Power Needs Some People Power
Call now about a bill pending in the WV House. Since it is a weekend, the message machines may be full. If so, then e-mail House Speaker Roger Hanshaw at roger.hanshaw@wvhouse.gov and Senate President Mitch Carmichael at mitch.carmichael@wvsenate.gov. Click here to learn more about the bill and why we need you to take this action in support of PPAS.
---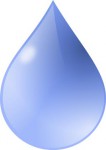 Clean Water Protection Needs Some People Power
Ask Legislators to Help Identify Toxic Chemicals in Our Drinking Water