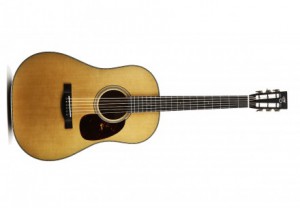 Update: All guitars are sold! Thanks to our donor and the purchasers. Happy pickin'!
An anonymous supporter of OVEC experienced a house fire last year. He writes:
We had a house fire on November 13, 2013. A number of guitars I had stored in the basement (in closed cases on metal shelving) were damaged, but repairable. The cases were badly damaged and discarded.
None of the guitars were burned, but all experienced some damage due to heat, humidity and temperature changes.
The guitars were taken to Fretwell Bass in Staunton,VA and repair estimates were prepared by Luthiers at Fretwell Bass. The guitars are all repairable, but even repaired, they would not be worth their pre-fire value. The insurance company does not want the guitars for salvage.
I do not want the guitars back, so my wife and I have decided to put them up for sale, as-is, and to donate all proceeds to the Ohio Valley Environmental Coalition, a not-for-profit (501(c)(3) organization that is fighting, among other things, fracking and mountaintop removal.
The table below lists these guitars. E-mail vivian@ohvec.org for a version of this table with hotlinks to photographs of similar guitars or to the webpage of the guitar maker.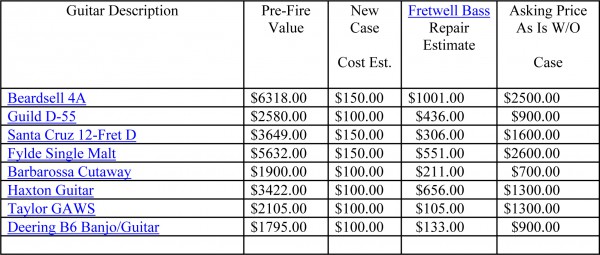 These guitars would be a bargain at the asking price, but we will accept any reasonable offer. Here's your chance to get a great guitar while supporting a worthy cause.
Feel free to contact Jerry at Fretwell Bass if you have any questions about the repairs they felt would be needed to put these guitars back into good condition.
Anyone interested in buying one (or more) of these guitars, please e-mail vivian@ohvec.org and I'll pass your contact information along.