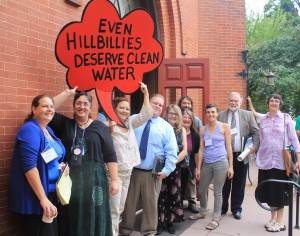 with The Alliance for Appalachia:
As we near the end of 2014, yet another year has passed without significant action from the Obama administration to end the worst abuses of mountaintop removal.
That's why the grassroots coalition The Alliance for Appalachia (of which OVEC is a member group) is releasing a Grassroots Progress Report that assesses the work the Obama administration has done in our region. The report provides recommendations for the final two years of Obama's tenure.
We are asking you — concerned residents and allies — to contact administration officials to remind them of their promises to the region. The coalition feels this is a critical time for the administration to seriously respond to the extensive health and environmental costs of coal in the region, as well as to address the urgent need for economic transition.
Despite the disastrous coal-cleaning chemical spill in January that left 300,000 without access to clean water here in West Virginia, despite a new study that links mountaintop removal to lung cancer, and despite recent accusations from local groups that a Kentucky mining company has violated the Clean Water Act nearly 28,000 times without meaningful repercussion, the Obama administration continues to drag its heels on desperately needed rule-making processes and has even cut off funding for a USGS study on the health impacts of mountaintop removal.
The administrative changes we seek include a Conductivity Rule and strong Selenium Standard from the US Environmental Protection Agency and a strong Stream Protection Rule and Mine Fill Rule from the Office of Surface Mining Reclamation Enforcement. These basic actions could be taken this year and would greatly impact the future health of our Appalachian communities and allow the Administration to follow through on its promises to the region.
The Alliance's member groups also want the administration to address serious lapses in regulation, enforcement and oversight of mountaintop removal coal mining operations, and to engage in collaborative dialogue around solutions and mitigation for adverse impacts caused by mountaintop removal operations, as well as to discuss what's next for the region.
"The coal industry is never going to be like it was in the 30s. The jobs have been on a decline since the beginning.  We need to realistically think of the future of Appalachia, and fix this mess," said Teri Blanton, a volunteer with The Alliance for Appalachia and Kentuckians For The Commonwealth.  "We could employ ten times the number of workers just fixing the toxic pollution mountaintop removal has left behind. We need reinvestment in Appalachia – not just clean energy, but cleaning up the messes left behind by dirty energy."
Please help out as we release this report. Contact the Obama Administration today.