Ohio Valley Environmental Coalition
Action Alert


Supporting Organized Voices and
Empowered Communities Since 1987
 

Dec 2, 2019

View / Comment Online
January 4, 2020 Update: You did it! Thanks to contributions from folks like you, we raised the $5,000 needed to meet our #WVProDemocracy match. Actually, we more than made it. We raised $7,380! Thank you!
Now that the season of giving is here and you are considering what tax-deductible donations to make, we hope you will think #WVProDemocracy.
Every issue OVEC works on depends on a healthy democracy, and that's why we are part of WV Citizens for Clean Elections.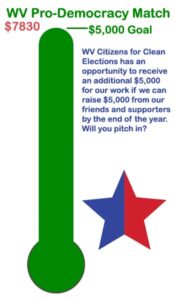 We are in the midst of a challenge grant. If we can raise $5,000 by the end of the year, then we will receive an additional $5,000 to support our WVCCE work, which is all about fighting for a democracy that works for all of us.
For instance, your donation will help us broaden and build support for our Pro-Democracy, Anti-Corruption Platform in advance of the 2020 legislative session. 
Your donation will also support our efforts to educate the public about the important role the courts play in our daily lives, especially with three out of five WV Supreme Court of Appeals justices up for election in May, 2020.  
Please support this challenge grant! December 11 update: We are at $4,420! You can help us reach our goal! Donate online here, or by sending a check to:
OVEC*
PO Box 6753
Huntington, WV 25773
Please be sure to include "WV Pro-Democracy Match" in the comments or memo/for line.
We are grateful for your support and thankful for the movement we are building together! 
Sincerely,
Julie Archer
Project Manager, WV Citizen Action Group (WV CAG)
Coordinator, WV Citizens for Clean Elections
Vivian Stockman
Executive Director, Ohio Valley Environmental Coalition (OVEC)