The folks at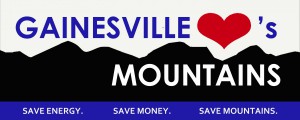 sent this update around to their e-mail contacts:
Dear friends of Appalachia and its mountains,
It's been 3+ years since Gainesville Loves Mountains first started our campaign to end GRU's purchases of mountaintop-removal-mined coal.
I'm writing today to let you know that our campaign has finally reached its conclusion. We can win this victory with your support.
On April 17, Gainesville City Commissioner Lauren Poe will direct City staff to take the initial steps to formally end GRU's relationship with strip-mined coal from Appalachia. You can read more details on our website, but here's how you can help us win:
*Please share this petition with everyone you know and ask them to sign on before April 17.
*We also need Gainesville residents, as well as Appalachians living in the shadow of MTR, to contact our City Commission personally and let them know that you support our campaign. Even a brief personal phone call, letter, or email with the simple message "I want GRU to bring a permanent end to their consumption of strip-mined Appalachian coal" goes a long way.
*And finally, if you live in the Gainesville area, please help spread the word about the April 17 City Commission meeting on Facebook. You can also help us outreach for the April 17 meeting through phone-banking and canvassing at public events.  If you have even one hour of time between now and the 17th and would be willing to help get out and spread the word, please contact us at gainesvillelovesmountains@gmail.com and we'll put you to work!
Thanks so much for your support. With your help we can win a victory for the mountains and set an example for coal-consuming communities everywhere.
In solidarity,
Gainesville Loves Mountains
Please take action. This campaing can serve as a model for cities around the nation.