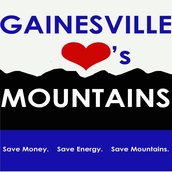 Kudos to Gainesville Loves Mountains for two years of work which has resulted in the writing of an ordinance which would permanently end Gainesville Regional Utilities' use of mountaintop-removal mined coal.
Learn more here and sign a petition to help enact this ordianace here.
Thanks GLM for setting an example the whole nation can follow!