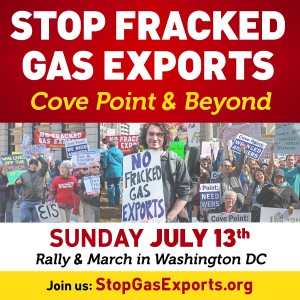 On July 13, come to the National Mall in Washington, D.C., to say NO to gas exports at Cove Point, NO to more fracking and pipelines — and a loud and proud YES to the wind and solar power that won't leak, explode or flood our communities.
What: Rally to Stop Fracked Gas Exports at Cove Point and Beyond!
When: July 13 12:30-3:30PM
Where: Rally begins west of the U.S. Capitol on the National Mall. Meet at the intersection of 3rd St NW and Madison Drive NW, Washington, DC 20216. March to the Federal Energy Regulatory Commission.
Transportation: Bus seats are available from Calvert County, MD, Charlottesville, VA, Richmond, VA, the Philadelphia area, and New York City. Click here for bus info and the rally ride board.
Sign up here to march with us July 13th in DC, and ensure you get updates on all the final logistics.
More info here.