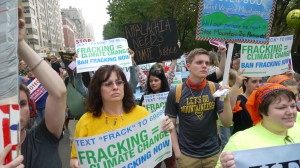 On September 21, I had the privilege to attend the People's Climate March in New York City, where more than 400,000 people of all backgrounds came together for the world's largest march related to climate change. I went there unsure if this action could affect real change at the United Nations, which was the focus of event, but with hope that we could continue to build a broader base of people fighting against climate change and for a better future. And this, to me, was the great success of the action.
A large contingent of concerned citizens and activists from Appalachia, including several OVEC volunteers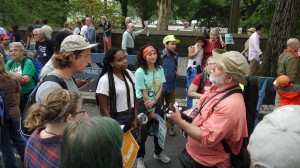 and three OVEC staff, marched at the head with the "Frontline Communities" group. This included many Indigenous peoples, those affected by Hurricane Sandy and so many others. I recall marching in between a group of young people from the South Bronx and a group from Historically Black Colleges and Universities.
The idea, I believe, was for all of these various groups to get to know each other and each other's angle on the struggle against climate change so we can better network and build together to effectively battle the corporate forces that prop up the fossil fuel dynasty. This is important, because we must all work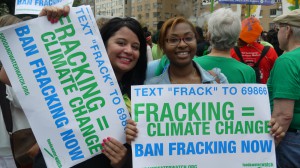 together against this global problem, and we must continue to drive home the intersectionality of the climate crisis.  It is far from just an environmental issue.  It is a health issue, an economic issue, a racial justice issue and a variety of other facets and angles that are touched by this problem.
Almost symbolically, but very naturally, there was a point in the march where all the groups began to organically blend together and merge into one mass calling for action on climate change. This was the power of this action, feeling as one and not alone in the fight in our own communities, like the small towns in West Virginia ravaged for dirty energy by mountaintop removal and the coal industry.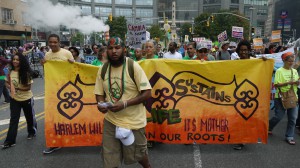 So, hopefully we can build from this march as a climate action movement and continue to build more alliances and hence more power to fight those continuing to push their dirty energy agenda. We need everyone onboard, from organized labor (which had a huge presence at this march!) to students, the faith community, the peace movement and more.  This is our fight as a planet and it is great to see so many people stepping up to be counted with their neighbors.
The next big event aimed at connecting our movements and building our power is Beyond Extreme Extraction. Read this "Call to Action" from Tim DeChristopher and Reverend Lennox Yearwood and come on out in D.C., starting November 1!
(Photos here by Vivian Stockman)