Three events in late October which OVEC friends, members and new contacts should plan to attend:
First, October 28: Beards Fork, WV.  Fifth and final community forum of the Coalfield Environmental Health Project. We'll see the results of the Beards Fork Health Survey and discuss how to continue our networking.  We'll talk about how information from the survey can contribute to a healthier Fayette County. For more information, contact Andrew Munn at anromu@gmail.com.
Second, please join us for an OVEC Open House on October 29 at the Huntington Unitarian Universalist Fellowship Hall, from 6:00 to 8:00 p.m. at 619 6th Ave.
We will mingle, enjoy refreshments, briefly update you on the CARE petition, and chat with staff about ways you can plug into OVEC's work. We've several opportunities for engagement in the Huntington area shortly after our open house, so come find out how you can be involved! We may also show a short film. Please plan to attend and bring friends or family members.
Third,the new documentary, Goodbye Gauley Mountain: An Ecosexual Love Story is returning "home" to
West Virginia with a screening at the Shepherdstown Film Festival, on October 31. Check out the schedule and ticket information.
Here's my review from a red carpet preview of the film, (in Charleston in August):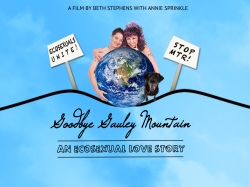 Goodbye Gauley Mountain was amazing — very tastefully done and highly motivating; I was pleasantly surprised! The Charleston UU was packed with viewers, most of whom gave it a standing ovation at the end. One of our long-time OVEC members attended and said she had been "kinda nervous" about showing the film at the UU, but — after watching it — wondered why in the world she'd felt that way.
This is going to be a film that reaches a wider audience than any other documentary ever made about mountaintop removal (MTR). Focused on the problems of MTR, it also brings in themes of diverse expressions of human love, respect for ancestral ties to the land and community, and humor — lots of humor.
OVEC staffer Vivian Stockman's part in the film is pretty amazing; she shows her mystic, earth mother side. Former OVEC employee, Stephanie Tyree and her room-mate — a writer — are also quoted extensively, in inspiring ways.This film takes tree hugging and mountain hugging to a new level, for sure, all in inspirational ways. There is some brief nudity and some human affection scenes, but nothing that is grossly sexually explicit. It may not be a film that you want to bring young children to, but it is an amazing film for adults of all ages. This film is focused on love — between people, but also between families, communities and for the mountains. There are some very poignant scenes with Larry Gibson in the film. It is a more hopeful, fun, and upbeat film than any other documentary about MTR that I've ever seen. You need to see this film, and Shepherdstown might be the closest opportunity you will have to do so; get there!
As you can see the end of October is a very busy time for us here at OVEC. We anticipate that November will also be a busy month; heck, we really never stop… To keep up with our schedule and to learn about other events in the local, national and global environmental movement, frequently check our online public calendar.
If you are hosting an event, or know of an interesting event that you would like to add to the calendar, please contact Viv.