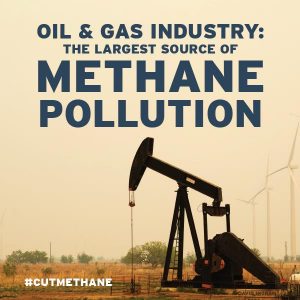 A recent announcement from the Environmental Protection Agency finalizing standards for dangerous methane pollution from new and modified sources in the oil and gas industry represents one of the Obama Administration's most important steps toward keeping Americans safe and healthy.
If you support these methane rules, then we encourage you to let your elected leaders know. We especially encourage West Virginians to contact Senator Joe Manchin. Find Manchin's contact information here.
Here are some talking points you can use for your dialogue with the staff of Manchin and other politicians:
• Right now, the oil and gas industry is recklessly leaking millions of tons of methane pollution and toxic chemicals into the air that harm our health and speed up climate change. These industrial leaks are like an invisible oil spill happening every day. These standards are the first-ever national safeguards on methane pollution from the oil and gas industry.
• These New-Source Standards are projected to reduce millions of metric tons of methane pollution—the equivalent of multiple coal-fired power plants—and save Americans money in costs related methane and toxic pollution.
• Health: Methane pollution and toxic chemicals from the oil and gas industry can make smog worse, trigger asthma attacks in children, and cause cardiovascular disease and even premature death.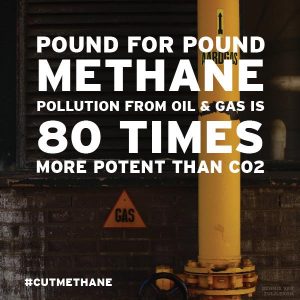 • Climate: Methane pollution is to blame for a quarter of man-made climate change. Pound for pound, the gas traps more than 80 times as much heat on our planet in the short term as carbon dioxide does.
• Waste: We could heat more than seven million homes each winter with the more than $1 billion in natural gas that the oil and gas industry recklessly wastes by leaking it into the air.
• Unfortunately, dangerous methane and toxic air pollution is already leaking from existing sources in the oil and gas industry, and EPA recently announced that those leaks are 34% worse than previously reported. That pollution represents one of the most significant threats to Americans' air, environment and public health. Safeguards are urgently needed to protect the public from existing sources of methane pollution.
• Federal standards requiring proven low-cost safeguards at all new and existing oil and gas sites are the best way to begin protecting Americans from the disastrous impacts of climate change and the oil and gas industry's air pollution and toxic chemicals.
Jessica Ennis, with our good friends at Earthjustice, says, "The new and modified source methane rule lays the legal groundwork for the EPA to regulate methane from existing sources. EPA regulation is a multi-step process—by regulating new and modified sources, EPA triggers a requirement to regulate existing sources. The only way for the agency to regulate the massive existing infrastructure is to start with regulating new and modified. Also, there is no need to create a new market for the capture of methane—it'll go into the same pipeline that gas is already being transferred through."
Methane gas is responsible for a quarter of man-made climate change, and President Obama has shown that he takes this threat seriously by acting to reduce methane pollution as part of his commitment to tackling climate change. The rule on new sources of methane pollution is an incredible first step. Now, we must build on that great progress, and continue to do all that we can to fight this dangerous pollution by enacting standards for existing sources of methane as well. Please contact your elected leaders today!
Want to do more? Download the petition below, print it and collect signatures, then return the filled-in sheet to New Mexico Interfaith Power and Light, PO Box 27162, Albuquerque, NM 87125. You could also scan in the filled-in petition and e-mail it to info@nm-ipl.org.