Thanks to the Post Carbon Institute (PCI; like them on Facebook here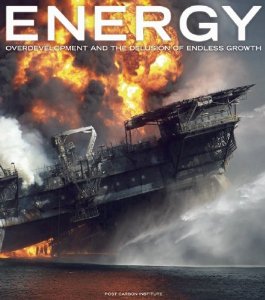 ), OVEC is in the midst of distributing more than 250 copies of the large-format book ENERGY: Overdevelopment and the Delusion of Endless Growth.
Organizationally, OVEC has partnered with PCI in their Energy Reality Campaign, a national effort to increase energy literacy, with the ultimate goal of remaking the energy economy as if nature, people and the future matter. We encourage individuals to join in, too. Take the Energy Reality Pledge here and become an Energy Reality Ambassador.
For the purposes of public education and outreach, we've shared these books with policy makers, other organizations, professors, college libraries, faith leaders and organizations. We shared some of the books with groups and journalists attending our Wellness and Water II forum. Thomas Bond received one of the books, and he wrote up this review.
Every high school library in the state should be receiving a copy of the book, via a pair of students selected from each school to attend the 2013 WV Hugh O'Brian Youth Leadership (HOBY) Seminar. In June, I spoke to the HOBY crowd as part of a panel titled "West Virginia's Role in the Future of Energy in America." PCI's Leslie Moyer made special arrangements to provide the ENERGY books for the students' high schools.
ENERGY is published by the Foundation for Deep Ecology in collaboration with PCI. Foundation for Deep Ecology also published the book Plundering Appalachia, which we distributed in a similar manner a few years ago. Both books include OVEC photographs of mountaintop removal.
PCI has just published their fracking image deck, a selection of images portraying fracking on public lands: what that looks like, where that's happening, what's at stake, and what we can do about it. PCI has linked up with Americans Against Fracking and Food and Water Watch in the effort to get public comments by August 23.