Over the years in Wetzel and surrounding counties, I have observed and listened to hundreds of pilot or escort vehicle drivers, both in person and on the CB radio. These drivers are helping the large vehicles associated with the fracking industry navigate our country roads.
Sometimes the drivers are sensitive to the driving needs and patterns of local drivers. More often, the pilot drivers that are brought in with rig moves, cranes, construction equipment, and other large gas-field-related loads just seem to expect locals to get out of the way. They have poor public relations and communication skills; they do not represent the drillers and producers well at all.  
I have sent numerous e-mails to company executives and officials, detailing the traffic headaches and needless dangers these drivers pose for locals. I've asked, for the safety and well being of local drivers, that a little time and attention be devoted to improving the actions of the pilot drivers. 
Below is one of my most recent e-mails, edited for brevity and to leave out the name of the person who received this e-mail. If you detect hints of frustration and sarcasm, note that this very same person received an e-mail about these same problems last week, and has not yet bothered to respond.  Note that I have written e-mails like these multiple times over the years. I guess I get impatient.   
—
To: (Name Withheld)
After so many years of shale gas operators' traffic on Doolin Run Road, by now we should have this figured out. We seem to forget everything that every previous producer, and all their pilot vehicle drivers and sub-contractors ever learned. That experience seems to have been stored in very volatile memory. So we start all over again, and again. And the residents have to again try to be patient, and tolerate the slow, steep learning curve of all the new companies and all their contractors' drivers.
ONE MORE TIME:
Prior to 5:00 PM today, six loads of PropX sand boxes had been waiting at your staging area on Route 2, in New Martinsville. That would be these size trucks, shown below, while still on Rt. 2. School bus curfew ends at 5:00 and the race is on.

At 5:15 PM today, with a Deep Well escort vehicle leading the way, FOUR of them leave the lot and start out on Doolin Run Road. For many years, common practice on most of these road has been to limit the over-sized convoys to THREE big trucks. Deep Well must think they know better than everyone else. One to these trucks is shown starting up Doolin, below.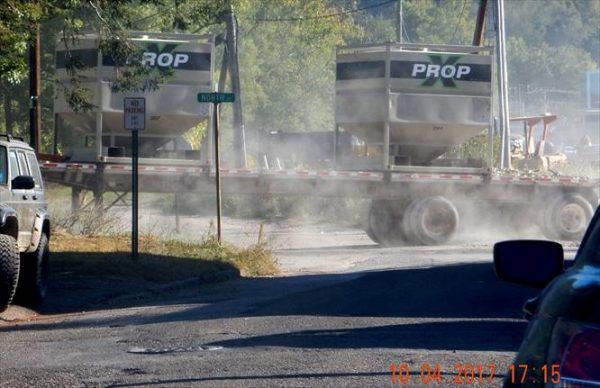 Not more than three minutes out Doolin,  the overall lack of co-ordination among all the many shale gas companies was again extremely obvious.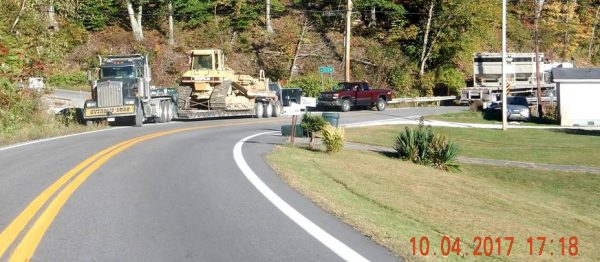 Above, this above construction equipment belongs to Trumbull Construction.They are not working for either EQT or SWN (drillers). They are building a compressor station for Williams on Blake Ridge. To be honest, my neighbors really don't care who they are working for.  Just more "GD gas guy traffic" is what I hear.  
In a few minutes, there is more EQT traffic coming towards me. Below, at 5:22, the incoming FOUR loaded PropX trucks, now meet FOUR empty PROPX trucks going towards town. Both strings of the big trucks have collected a growing string of private, residential vehicles, stuck, patiently (or not), behind them.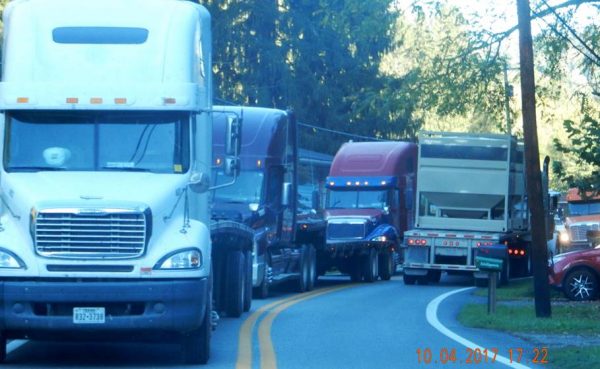 The photo above shows how the trucks can tear up the front yards, get into the ditch, take out mail boxes, and hit guard rails. The trucks facing my vehicle here are going to town.  There were at least  four of them.  And going the same direction as me were the other four loaded trucks. Was anyone supposed to co-ordinate this operation? Or maybe this is their best effort to date…
Some more of the west bound trucks are here: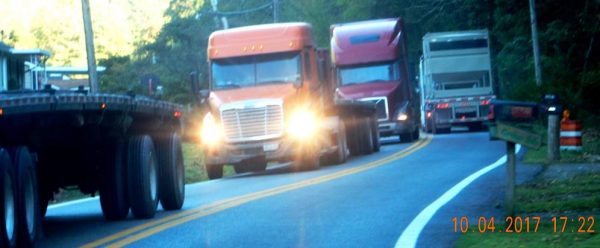 Things actually get more "interesting" at the top of Doolin Run Road. These PropX trucks do not have to worry about any SWN trucks getting in their way on American Ridge. But they should be paying attention to their OWN traffic. So at the top of Doolin, they make a left turn onto American Ridge and, yet again, meet another big PropX truck coming at them. They meet at a very inconvenient narrow spot. I do not think they planned for this. Or did they?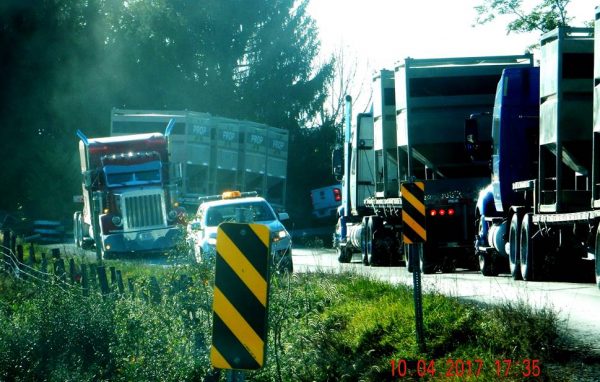 While risking multiple trucks getting into the ditch or a few tires off the road and over the hill they attempt to squeeze by with no room to spare.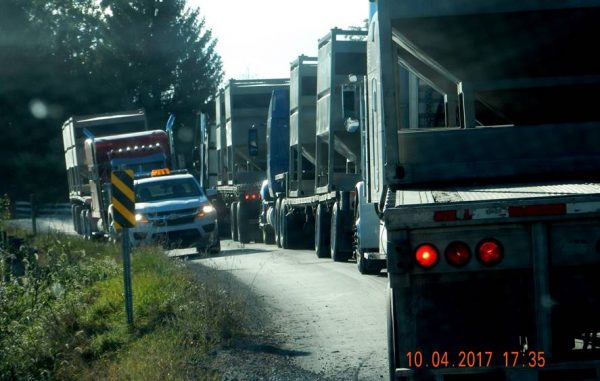 There are still more examples of NO co-ordination and minimal situational awareness. The FOUR incoming Prop X trucks proceed out American Ridge and onto Schubach Ridge. Now, it might be quitting time, and  many impatient employees of EQT's subcontractors are in a hurry to leave the Smith well pad and NO ONE tells them differently and they, of course, are not required to carry CB radios and are blissfully unaware of the oncoming FOUR big trucks headed directly at them.

These two small trucks, above, in the red rectangles, and two more just like them went on down the road and are soon about to get in the way of your FOUR sand boxes along a very narrow gravel lane. Finally some Deep Well truck on the Smith well pad stopped two or three other small trucks from going out until the four big trucks got onto the lease roads.   
I could show you the four trucks coming in but I think I have wasted enough time beating this dead horse.
IS ANY PROGRESS POSSIBLE AND LIKELY? Or are my Doolin Run neighbors stuck with this nonsense?
–Bill Hughes, Wetzel County