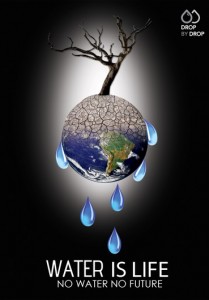 Water is life, as the saying goes. A world with little water is hot, barren and dangerous. Just ask the residents of California who have dealt with a severe drought over the last year, and all the consequences that have come along with it.
Three people have died and more than 1,000 homes have been destroyed thus far in the latest round of fires in Lake County. 
This also adds to the economic damage to the state that the severe drought has caused. According to one article, "Over the last year and a half, Gov. Jerry Brown has set aside $587 million for immediate emergency drought relief. But a third of that money still hasn't been spent."  This figure does not even include requests for federal disaster relief aid, which comes from a pool to which all U.S. taxpayers contribute.
There are also effects on the massive agriculture industry in the state, which in turn could affect the rest of the nation. The UC Davis Center for Watershed Sciences released a report in July that found, "Direct costs to agriculture total $1.5 billion (revenue losses of $1 billion and $0.5 billion in additional pumping costs). This net revenue loss is about 3 percent of the state's total agricultural value." 
This is bad news as California produces nearly half of the fruits, vegetables and nuts grown in the United States. A collapse in agriculture there could have drastic implications for everyone's food supply, impacting prices, access and quality.  
West Virginia, on the other hand, still has a plethora of freshwater and the current dry spell is hardly a drought. Still, we have dire water problems, related both to quality and quantity.
For instance, mountaintop removal/valley fill coal mining destroys aquifers, buries headwater streams and pollutes surface water on a massive scale. Water and chemicals are used to clean coal for market, then "disposed" of in coal sludge dams or via underground injection, resulting in contaminated surface water and groundwater. Power plants consume huge amounts of water, while the ash left over from burning the coal contaminates ground and surface water. From mining, to cleaning for market, to transportation to power plants, to burning in the power plant, to "disposal" of coal ash, coal assaults our water with arsenic, selenium, boron, cadmium, mercury, and more.
Deep shale hydraulic fracturing (fracking) uses massive amounts of freshwater. According to FrackCheckWV, "The amount of water a Marcellus well will use depends on whether it is a vertical well (600,000 to 2,000,000 million gallons) or a horizontal well (2,000,000 to 5,000,000 gallons) and how many times it is fracked (multiply 2,000,000 to 5,000,000 gallons times the number of fracs)." That's a lot of water!
Landfill "disposal" of (radioactive!) waste from shale extraction activity can lead to contaminated leachate oozing into local watersheds which lead to the Ohio River, drinking water source for millions of people.
Chemical storage tanks menace waterways in our state, too, as the Freedom Industries MCHM (a coal-cleaning chemical) drinking water disaster of January 2014 devastatingly illustrates. Some 300,000 West Virginians, customers of West Virginia American Water, had no water for nine days. Many folks do not drink WVAW's water to this day. 
Recent efforts to take back the water company from private hands into public ownership have great potential and should be supported.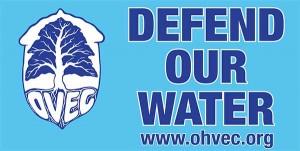 As climate change worsens, water will become more and more precious. States with a water scarcity problem, like California, would love access to the amount of water that West Virginia has. While our water may be plentiful here, we have to defend it to keep it clean and usable. 
OVEC is dedicated to defending our water. Please join us.