OVEC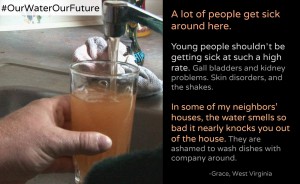 is a member group of The Alliance for Appalachia and we'll be joining folks in D.C. for Our Water, Our Future on Sept. 9. Will you join us?
The tragic and unbelievable series of water spills in 2014 alone – from the 300,0000 people impacted by the spill in West Virginia to coal ash and coal slurry spills in West Virginia, Virginia and North Carolina – are just the most recent disasters to show the failures of the Obama Administration to follow through on its promises to protect Appalachian communities.
We are asking you to join Appalachian leaders to take action on September 9th, to get the safe water Appalachia needs from Washington, D.C. for Our Water and Our Future.
Mountaintop removal and other coal industry abuses have long comprised the waters of Central Appalachia.
"Between legacy mining pollution, mountaintop removal, slurry spills and the chemical spill, Appalachians can't even count on our municipal water being safe. I need action to protect our water for my kid's future," says OVEC member Carey Jo Grace, who lives i Charleston, WV.
This year, with several key water rule-makings slated in Washington, D.C., we are seeking your support to raise the stakes and ensure that Appalachia is heard.
Can you come? We'll rally at 10:30 a.m.on Tuesday, September 9 at Lafayette Square, next to the White House.
If you can't come out, please complete and share our Online Action to Contact Obama.