West Virginia's major water sources, like the Kanawha River, have had the highest rate of reproductive toxins that can lead to birth defects and reproductive disorders in the country. That's just one reason why OVEC has partnered with WV FREE and other groups for the #changethecurrent campaign. Without adequate safe water regulations and requirements, West Virginia's most valuable resource – families and children – are at risk of exposure.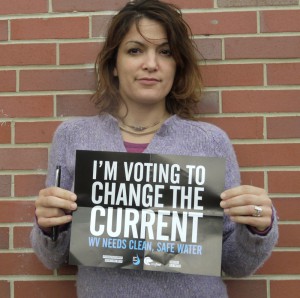 This is not just a Chemical Valley problem; families across the state are extremely worried about clean, safe water. In fact, 81% of likely voters said they are very concerned about the amount of reproductive toxins found in West Virginia's water sources.
West Virginians need clean water.  Early voting is on now, until Saturday. Election Day is November 4. Get out and vote because there's power in numbers and voting for clean, safe water is voting for the health and safety of West Virginia's families and children.
To show you have or will vote and that clean water is important to you: Print this flier, then take a selfie with it and post to social media with the hashtag #changethecurrent. See you in cyberspace and at the polls.