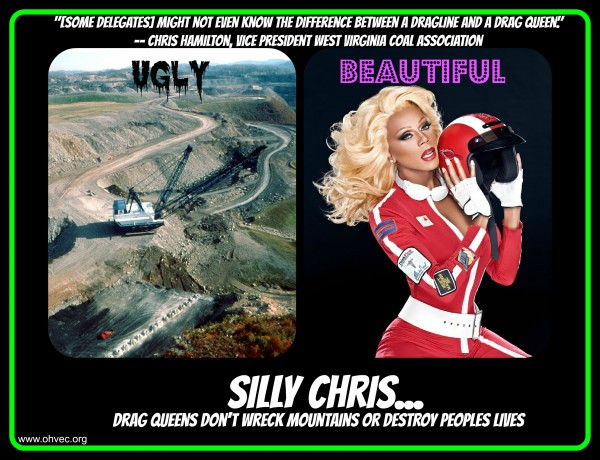 A March 8 post in "Grounded," The State Journal's energy blog, vice president of the West Virginia Coal Association, and notorious funny man, Chris Hamilton was quoted saying that some West Virginia delegates might not know "the difference between a dragline and a drag queen." He made these remarks at a recent coal industry conference where he and his fellow industry officials trotted out their bought and paid for members of the West Virginia House of Delegates.
The blog reads:
Hamilton said "It's a hell of a lot easier" when someone passionate about the industry not only listens, but seeks industry support on legislation. Hamilton said in addition to passion, these delegates bring a knowledge of the industry. He said sometimes a "teacher" or "librarian"delegate speaks up to a coal-related bill and might not even know "the difference between a dragline and a drag queen."
But we got to wondering, does Chris even know the difference?  After all, draglines are huge and hideous and drag queens are fierce, beautiful, and fabulous people.  They shouldn't even be compared in the same sentence together.  And to the best of our knowledge, there has never been a 260 ft. tall drag queen that has destroyed an entire mountain while poisoning Appalachian streams and making people sick. We don't think many drag queens would knowingly and willingly put people's lives at risk for profit.  No, that would be the coal industry and their ugly giant mechanical beasts like the dragline. How could anyone not know the difference, right?
Silly Guy! Sometimes Chris, things you say could almost be funny… almost.
Why do legislators continue to listen to coal industry lobbyists who insult their intelligence and the LGBT community?