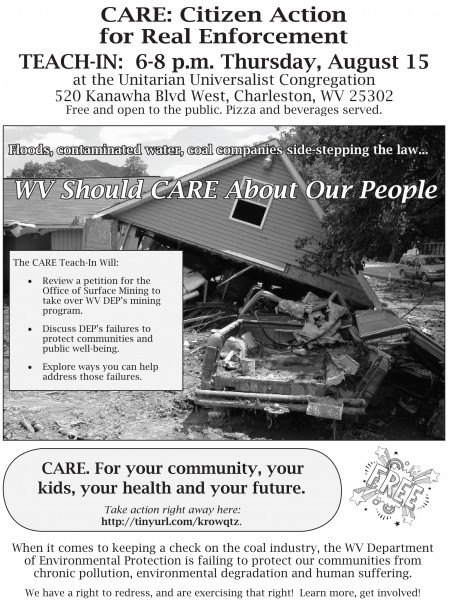 We hope you will join us:
CARE: Citizen Action for Real Enforcement
August 15: 6-8 p.m. CARE TEACH-IN at the
Unitarian Universalist Congregation
, 520 Kanawha Blvd West, Charleston, WV. Free and open to public. Pizza and beverages provided.Help spread the word – post
this flier
at school, work and friendly businesses.
Floods, contaminated water, coal companies sidestepping the law… When it comes to regulating the coal industry, the WV Department of Environmental Protection (DEP) is failing to protect our communities from chronic pollution, environmental degradation and human suffering. By law, we have the right to petition the federal government to step in when a state agency fails to protect us. We are exercising that right, and we hope you will join us.In June, a coalition of 18 civic, faith and environmental organizations filed a formal petition with the federal Office of Surface Mining Reclamation and Enforcement (OSM) alleging widespread problems with the state Department of Environmental Protection's (DEP) enforcement of the Surface Mine Control and Reclamation Act (SMCRA). Here's the entire 102-page petition and here's a two-page summary of the formal petition legal we filed.The filing of the petition represents the first step of the Citizen Action for Real Enforcement (CARE) Campaign, a new effort bringing together citizens and groups across the state to demand accountability from state government and to address DEP's failures. This is a critical step and a powerful new tool to improve lives for thousands of West Virginians, but we need your help! Please attend the teach-in.
The CARE Teach-In will briefly review a formal legal petition recently submitted to the federal Office of Surface Mining. The petition asks OSM to take over DEP's mining division due to the DEP's failure to enforce federal law. A discussion will follow on how individuals concerned about the impact of DEP's failures on their communities, public health and the environment can join CARE's efforts to demand accountability from state government and to address those failures.
You don't need to wait until August 15 to get involved! If you haven't already, be sure to click here to contact Secretary of the Interior Sally Jewell to ask her to take action on our petition to OSM. Also, please share this image on Facebook to spread the word to your friends.
The CARE campaign needs your voice. Contact Dustin White at dustin@ohvec.org to get involved with planning events, telling your DEP horror story or more.
CARE. For your community, your kids, your health and your future.