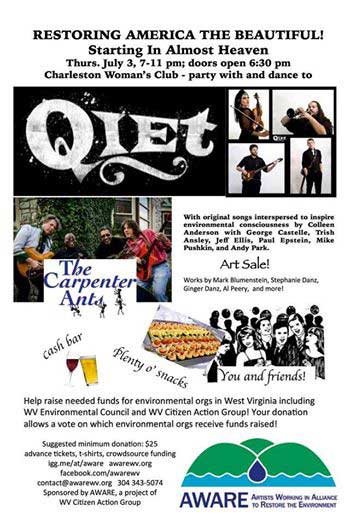 Are you AWARE that you can have some fun tomorrow night while raising funds for local environmental justice groups? AWARE is Artists Working in Alliance to Restore the Environment.
Come on out to AWARE's "Restoring America Beginning in West Virginia," held at the Woman's Club of Charleston, WV from 6:30 to 11 p.m. on Wednesday, July 3.
Groove to music by the Carpenter Ants, Qiet, and local singer/songwriters Colleen Anderson with George Castelle, Patricia Ansley, Jeff Ellis, Paul Epstein and Andy Park.
Bring your wallet as you may will want to bring home some art work by Mark Blumenstein, Charly Jupiter Hamilton, Stephanie Danz, Ginger Danz, Al Peery, Marium Bria or David Pahl.
Learn more in this Charleston Gazette article.