On April 14, 2015, OVEC was one of the recipients of the second annual Jean and Leslie Douglas Pearl Award presented by the Cornell Douglas Foundation.  The ceremony took place in Washington D.C. at the National Press Club.  The following is the acceptance speech from OVEC's very own Executive Director, Janet Keating:
Good afternoon. It is truly an honor to be with you.  We, of the Ohio Valley Environmental Coalition—OVEC— are sincerely grateful to the Cornell Douglas Foundation for this prestigious recognition—and thrilled to be among the outstanding recipients of this second annual Jean and Leslie Douglas Pearl Award. We are the ones receiving this award, but I would be remiss if I did not tell you that the foundation has been deeply committed to our cause, to saving our ancient mountain ecosystems, communities and people. To that end, Ann Cornell has been more than a benefactor; she's been our champion.
Experience has taught us that no individual within OVEC could ever accomplish as much as our grassroots organization has, together, in the past 27 years. Many people, who can't be with us today, even those who have passed on, share in this honor. All of our successes have come from the collective hearts, minds and actions of OVEC's hard-working and devoted volunteers, board members, and staff. Without their active participation, I doubt that we would be here today.
For OVEC to receive a Pearl Award, seems so appropriate because OVEC is in the business of creating "pearls." Those who pollute our air, land and water in our region, undoubtedly find us to be a source of persistent irritation. And like that grain of sand in the oyster shell, we don't stop irritating them until they either willingly change or are forced to change their ways. Interestingly, at the same time that we aim to change the behavior of polluters, we often witness amazing transformations in the lives of people with whom we work, who access and exercise their personal power.  Nothing is more gratifying than seeing a community member speaking out  for the first time about an injustice.
Ann has asked us to reflect upon what our goals might be in the next year, so I reached out to others. Here are 3 brief responses:
1) " I would like OVEC to educate people in our region about the serious threats from potential deep shale fracking for oil and gas from the Rogersville Shale deposit, and to be successful in generating so much citizen involvement that actual fracking for this oil is minimized or stopped."
2)  " I would be remiss if I didn't throw in the need to prevent catastrophic pollution of the Ohio River from the fossil fuel and chemical companies that line it in dramatically increasing numbers."
3)  "I hope for an immediate moratorium on Mountaintop Removal  permits."
In summary,  three  worthy goals for the coming year are:  to stop fracking, to protect the Ohio River from further pollution,  and to end mountaintop removal mining  strip-mining of coal in Central Appalachia.
I leave you with these final thoughts:
     We have the right and an obligation to protect that which we love.  To that end, my goal in the coming year is to connect with more Appalachians who are driven by love—an abiding love of the natural world that sustains us, a love of our glorious mountains which renew our spirits, a love of our home places, communities, and people that ground and connect us, and a love of our unique culture and history which defines us.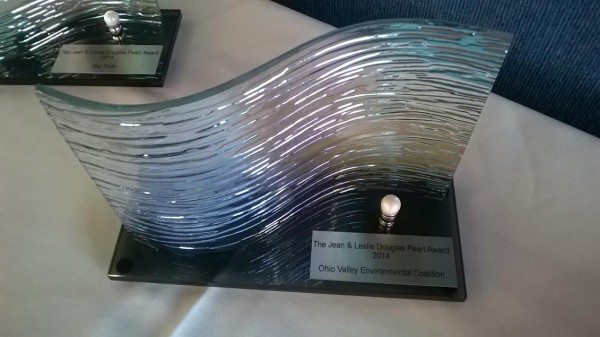 OVEC was one of two award recipients from West Virginia, along with SkyTruth from Shepherdstown, WV. To find out more about the award and the other recipients, please visit our press release.