West Virginia's mountains and people have lost another passionate protector. Janice Nease, a coal miner's daughter, founding member and former executive director of Coal River Mountain Watch, died on July 8, 2013. Janice was a strong Appalachian woman who clearly understood how our mountains and culture are inextricably linked. She excelled at articulating the problems that people face in Appalachia. At one of the first rallies for the mountains, Janice said: "Coal is the greatest threat to prosperity in West Virginia. Coal never has and never will fulfill its promises."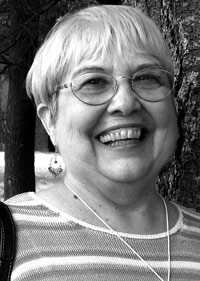 For many years thereafter, Janice and other folks organized by Coal River Mountain Watch were central to numerous actions and events aimed at countering coal propaganda and holding elected officials accountable, like the "Coal Ops 2000" conference held in Beckley. At that event, while coal industry management from across the country were inside the Country Inns and Suites talking about the financial benefits to be gained from mountaintop removal and how to repair their ever-darkening public image, Janice, along with people from Whitesville, Seng Creek and other mountaintop removal communities set up a wall of protest signs outside.
Janice travelled frequently with Judy Bonds (another fallen shero) and Freda Williams, spreading the word about the impacts of mountaintop removal and dangerous coal slurry impoundments. Janice was particularly concerned about the Brushy Fork Impoundment, designed by the same engineers of the disastrous Martin County sludge pond that failed in October 2000 in Inez, KY. In excess of 300 million gallons of toxic coal sludge inundated more than 75 miles of streams and rivers in Kentucky and West Virginia killing all the aquatic life, shutting down public water systems and flooding peoples' yards (more than 7 feet deep).
On one notable summer day, dubbed "Summer Solstice Sludge Tour," Janice, Judy, Freda and folks from OVEC toured the massive 645 acre Brushy Fork coal slurry impoundment. The impoundment was developed in the 1990s by MarFork Coal Company, which was owned by Massey Energy at the time. In 2011, Alpha Natural Resources purchased Massey's holdings, including the Brushy Fork impoundment. Brushy Fork is a tributary of Little Marsh Fork that flows into Marsh Fork, comprising part of the headwaters of the Coal River upstream of Whitesville.
This spring, federal regulators approved expansion of the Brushy Fork coal slurry impoundment, one of the largest in the nation, increasing its holdings from 6.5 billion gallons to 8.5 billion gallons and to a height taller than the Hoover Dam. I shudder to think about the loss of life if that impoundment ever fails.
At OVEC's Fourth Interstate Summit for the Mountains, Janice received a well-deserved "Speaking Truth to Power" award. Despite her diminutive size, she never shied from getting in the face of elected officials, environmental regulators, coal guys and others whom she held responsible for the injustices caused by mountaintop removal. I loved that about her and will miss her. She helped lay the foundation for the good work that continues in the Coal River Valley.
Although West Virginia has lost another native daughter who loved the people, the culture and the beauty of our mountains, I can only imagine the jubilation on the other side when Janice was greeted by Judy Bonds, Larry Gibson, Winnie Fox and Laura Forman and other fallen mountain defenders. Thanks, Janice, for all your passion and the countless hours you worked to help preserve our mountains, communities and Appalachian culture.