Featured Events
Sept. 3: Protest Dick Cheney's Visit to WV! Meet up by 11:30 a.m. at the White Sulphur Springs City Park. Details here.
---
Sept. 12: The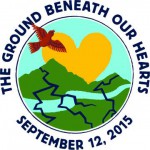 Ground Beneath Our Hearts, a worldwide celebration of our love for the beauty of our homes and heritage in places damaged by extractive industries.
---
Sept. 14: 6:30 - 8:30 p.m. Huntington Chapter of the WV Citizens Climate Lobby meets at the Cabell County Public Library, in Meeting Room #1.
---
You Are Needed! Stream Protection Rule Draft Environmental Impact Statement Hearings: The Office of Surface Mining Reclamation and Enforcement (OSMRE) will host public hearings on its proposed Stream Protection Rule in several states.
WV Location: Charleston Civic Center
200 Civic Center Dr., Charleston
5:00  – 9:00 p.m, Thursday, Sept. 17 
All hands on deck! Learn more here.
Featured Petitions
---
PBS To The Contrary Segment on Mountaintop Removal
with OVEC's Executive Director Janet Keating and a former OVEC staffer
Note: OVEC is in the process of morphing our website to a new design. For a while pages may appear either in the new or old design, depending on whether they have been updated. Please pardon any inconvenience…