Ohio Valley Environmental Coalition
Action Alert


Supporting Organized Voices and
Empowered Communities Since 1987
 

Jul 2, 2019

View / Comment Online
July means summer vacation for lots of us. Nonetheless, we hope you'll take the time to participate in at least some of the actions below.  
Easy E-Actions to Take No Matter Where You Live: 
Tell Your Senator We Need ALL States to Start Building Clean Energy
Help Our Allies: Protect Alaska's Bristol Bay from the polluting Pebble Mine
Ask the UN to Adopt a "Declaration of Rights of Mother Earth"
---
ROAR About EVs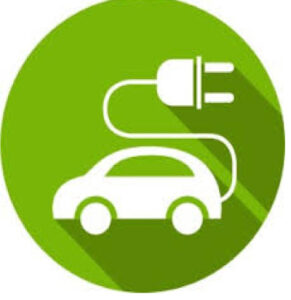 If you are near Huntington, please plan on joining us tonight for the latest in our ROAR: Re-imagining Our Appalachian Region meetings. This one is all about electric vehicles. Come hear a short presentation from the WV Electric Auto Association and check out some EVs.
What: WV Electric Auto Association (WVEAA) on electric vehicles
When: Tonight, Tuesday, July 2 @ 7 p.m.
Where: 725 14th Street West, Huntington, WV (OVEC Office)
If you use Facebook, you can join the event and invite your FB friends here. Learn more here.
---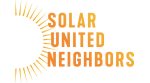 Got Solar? Inspire Others!
If your home or business is already solar powered, consider hosting a tour as part of the National Solar Tour days, October 5 and 6. Learn what is required by watching a webinar live at 3 p.m. on July 12. If you can't make it then, you can watch a recording of the webinar later. All the details you need are here. 
Solar-less? Join the Charleston-Huntington Solar Coop
Go solar (a great way to power your home and your EV)! The Charleston-Huntington Solar Co-op is now open to residents of Cabell, Kanawha, and parts of Mason, Putnam, and Roane Counties. Learn more at this link. Sign up here by the August 30 deadline.
---
Coal-to-Liquid Is Still Nuts
Those of you who have been active with OVEC over the years know we have opposed several insane pushes over the years to bring coal-to-liquids plants to our region (such as this one). Well, dust off your stomping boots, or activate your new pair, because it is time to stomp out another ecocidal scheme.   
Domestic Synthetic Fuels I, LLC has applied to the WV Department of Environmental Protection for a permit to construct a Direct Coal Liquefaction facility proposed near Point Pleasant in Mason County.
News: Planned plant open for public comment
Editorial: Plant developers in Mason County bear burden of proof
In a recent op-ed, WV Coal Association VP Chris Hamilton opines this will be a "game changer" for our state. Perhaps industry lobbyists like him see the future as a game, with the same winners and losers, but it is not. We can't go on denying the climate crisis and continuing to promote the pipe dreams of the fossil fuel industry to the detriment of the entire planet. (Check out this tweet for an observation on and a link to the Hamilton op-ed.)
We've asked  DEP for a public hearing on this proposal and for an extension to the current deadline of July 18 for the comment period. Please do check back our website for updates. 
If you want to go ahead and comment now, details here should help you out:
July 18: Deadline to comment to DEP about this ridiculous proposal.
Also, by July 18: Deadline to tell WVDEP to Hold the Mountain Valley Pipeline Accountable for Water Quality Violations
---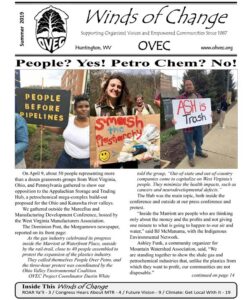 Winds of Change On(line)
In case you didn't know, our summer 2019 Winds of Change newsletter is now posted online, here. We hope you will read it over to find out what we have been up to lately, and then show your support for that work by donating to our summer fundraiser. Learn more about why are having to take on this special fundraising drive:
Your Support Needed for Our Summer Fundraising Goal of $30,000
---
Not Too Soon to Save the Dates:
August 2: In our next ROAR workshop, we will hear from Connie Jerie Laishley of Appalachian Forest Herbs on the history, legality and uses of hemp. Watch our website for more details. As usual, we'll gather at the OVEC office at 7 p.m.
September 20: International Climate Strike
October 12: West Virginia Environmental Council's  30th Anniversary! Come picnic at the Gorman Shelter at Coonskin Park in Charleston, 1:00 – 4:00 p.m. More detail here.