Ohio Valley Environmental Coalition
Action Alert


Supporting Organized Voices and
Empowered Communities Since 1987
 

Dec 31, 2020

View / Comment Online
Thank you so much for supporting OVEC through 2020. Cheers to you, and cheers to the possibilities that await us in 2021.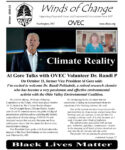 In case you missed it, our Winter 20-21 newsletter is posted online, here. A print version of the newsletter will be mailed out to dues-paying members soon (unless you have told us you opt of the mailing and will read the newsletter online). We hope you enjoy reading the newsletter and catching up on our work. We also hope you will continue to be a part of our work in 2021.
See you next year!