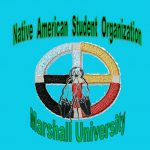 Thanks to all who showed up for Peoples Climate March events — whether in D.C., Charleston or Huntington, or elsewhere.
One of the more energizing and memorable things about the Huntington rally and march was the presence and leadership provided by the Marshall University Native American Student Organization (NASO).
We have received an invitation to respectfully participate in their Water Ceremony on Thursday, May 25. See below for details, and please read and follow the instructions below if you plan to participate:   
Water Ceremony
(Weather Permitting)
The Marshall University Native American Student Organization will be having a Water Ceremony on May 25, 2017. It will be at Harris Riverfront Park on the side where the boat ramp is. This event will be open to all who attended the Climate March and expressed interest in attending. The Ceremony will take place in the evening, tentatively around 7:00 pm.
This is a ceremonial sacred event which means there can be no negativity and no disrespectful words spoken nor disrespectful actions taken. You must do what the elder(s) that are present helping conduct the ceremony ask of you.
For women who attend the ceremony, please wear a long skirt, and if you are on your moon (period) please do not attend, as this is a time when women are their strongest and their medicine may affect the energy and the process of the ceremony. Please come with a good mind, and willing to learn.
Also, please leave your pets at home, and no alcohol and drugs. When we say no alcohol and drugs, we mean you must have no alcohol or drugs for at least four days prior. Thank you!
You can learn more about MU NASO here.