Ohio Valley Environmental Coalition
Action Alert


Supporting Organized Voices and
Empowered Communities Since 1987
 

Dec 30, 2019

View / Comment Online
Season's greetings from the staff and board of OVEC! We hope you are in the midst of a restful and meaningful holiday season.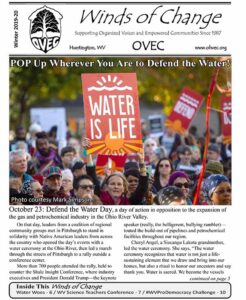 Because you are on this list, we know you care about the Central Appalachian region, and we are so grateful for that! Thank you.
As you make your year-end donations to the assorted causes and groups you support, we hope you will include OVEC on that list. If you need a nudge about why you should contribute to OVEC, please read this letter from Dr. Randi Pokladnik, an OVEC volunteer, and check out our winter newsletter, online here. If you still need convincing that your donation dollars are definitely put to good use when you support OVEC's work, also see a few of the latest examples of OVEC in the news: 
West Virginia congregations respond to climate change
Environmental groups sue Trump administration over chemical disaster prevention rollback
As Petrochemical Industry Extends Along Ohio River, Pollution Follows Close Behind
---
Almost There: Our #WVProDemocracy Grant Challenge
January 4, 2020 Update: You did it! Thanks to contributions from folks like you, we raised the $5,000 needed to meet our #WVProDemocracy match. Actually, we more than made it. We raised $7,380! Thank you!
You could really help us out by earmarking your donation for our #WVProDemocracy challenge grant. If we can raise $5,000 dollars by midnight December 31, we will receive a matching $5,000 grant. These funds support our Clean Elections/Fair Courts work. As of this writing, we are $295 from our goal. We are so close! Please make certain we don't fall short. Donate now, here, and please be sure to include "WV Pro-Democracy Match" in the comment field.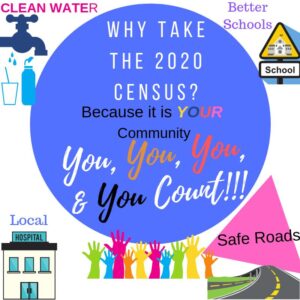 This work is going to be pivotal in 2020. We will be asking for your help (such as contacting legislators, and talking about the issues with your family, friends, and neighbors) during the 2020 West Virginia Legislative Session, We will also need your help in engaging people to take part in the 2020 Census, in making sure people are registered to vote, and in making sure people know that their only chance to vote for an unprecedented three out of five WV Supreme Court judges will be during the May 2020 primary (not the November election).
We will get right to business in January of 2020, as you can see from the list of events below. 
---
Reminders
Please be certain your Kroger Community Rewards card is still linked to OVEC. You have to update the card yearly for it to remain linked to OVEC. 
We switched to a new database in 2019. Please take a moment to make certain we have up-to-date information for you by filling in your info here.
Also, if you haven't done so already, please be certain you've added info@ohvec.org to your e-mail app or program's address book. If you don't know how to do this, please follow the instructions here; this helps keep our emails out of your spam folder.
---
Upcoming Events
January 8: First day of the WV Legislative Session.
January 10: First 2020 meeting of WV Citizens for Clean Elections. E-mail info@ohvec.org for details.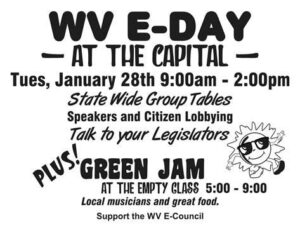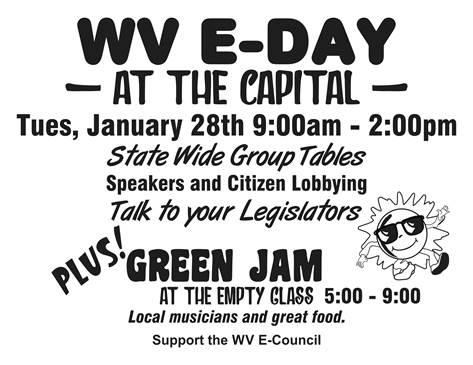 January 14: West Virginia Environmental Council's annual Legislative Kick-off Blast at the Red Carpet in Charleston, WV.
January 20: Martin Luther King Jr. Day. The Martin Luther King, Jr. State Holiday Commission will host events in Charleston, WV.
OVEC traditionally marches with the Huntington-Cabell Branch of the NAACP for an annual march that assembles at 4:30 p.m. at the 16th Street Baptist Church at Elm Street and 9th Avenue in Huntington, WV. We march to the Joan C. Edwards Theater (Marshall University Campus), where, starting at 5:30 p.m., a program will take place.
January 28: E-Day! at the State Capitol. Join environmental groups from across the state in the upper rotunda to lobby our delegates and senators on the importance of protecting the air we breathe and the water we drink. Afterwards, we will gather at the Empty Glass for our annual GREEN Jam.
Check back, we will be adding more to our online calendar as January progresses.
---
Thanks for all you do, and see you next year!