Ohio Valley Environmental Coalition
Action Alert


Supporting Organized Voices and
Empowered Communities Since 1987

 

Apr 9, 2021

View / Comment Online
Join us for a Statewide Day of Action to 'Protest While You Can' Condemning Anti-Protest Bills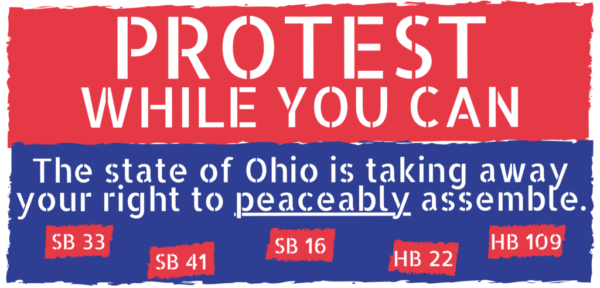 The Ohio legislature recently introduced a host of bills that opponents say threaten Ohioans' right to free speech. House Bills 109 and 22 would create higher fines and prison time for individuals involved in actions deemed to be a riot, and would increase penalties for "diverting the attention" of a law enforcement officer, respectively. Senate Bills 16 and 41 would increase fines and prison time for individuals involved in a protest where first responders are harassed, intimidated, or injured and would require participants in a protest to provide financial reimbursement for the financial cost of policing an event.
On Saturday April 10th, Ohioans from the Our Voices Together coalition will protest across the state to condemn anti-protest laws with rallies, forums and other actions planned in Chillicothe, Cincinnati, Cleveland, Columbus, Dayton, Oberlin College, Southeast Ohio, and virtually from their homes statewide.
Join OVEC on Saturday, April 10 at 11:00 a.m. at the Robert C. Byrd Bridge on the Huntington, W.Va. side for a march and a banner drop in protest of these bills.
If you can't come out on Saturday, follow this link for more events across the state and via livestream.
All participants will be asked to wear masks and maintain social distancing.