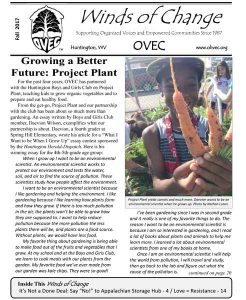 The Fall 2017 issue of Winds of Change, OVEC's newsletter, is now online. To read your copy, click here or on the image.
P.S.: This Saturday, October 7, we sure hope to see you at our annual members and supporters picnic, at the Barboursville Park. Details here. This is a 30th anniversary celebration event! Whether or not you can make it, please do support our $30 for 30 campaign. 
If you can't make the picnic in Barboursville, WV, there's also an event to Save the Greenbrier River and other waterways in Summers County, details here.
Plus, also on October 7, there's the 30th Anniversary Film Screening of Matewan at the LaBelle Theatre in South Charleston. 
You are receiving this message because you indicated you wanted to receive the OVEC newsletter electronically. If you no-longer wish to receive the newsletter electronically or want to return to receiving the printed version of the newsletter, you can unsubscribe below or reply to this e-mail with a note about any changes you want to make. Thank you so much for your continued support!