The Spring 2018 issue of Winds of Change, OVEC's newsletter, is now online. To read your copy, click here or on the image below.
Unfortunately, we have an update to the page 14 article titled, "Private Money May Pay for MTR Mining Study Trump Stopped." The newsletter was at the printers when news came that the Trump Administration has ordered researchers to stop work on an independent evaluation of potential health effects from mountaintop removal coal mining. We wanted to yell "Stop the presses!," but it was too late.
We also wanted to yell at the administration over this latest slap in the face to Appalachian communities. Some online commenting is one way to vent for now, as we determine next steps. As of the time we sent this notice out, this page was still accepting comments about the study. Remember, the NAS was ordered by the White House to cease the study, and was seeking private funding to keep the study going. The page to comment to the White House is here.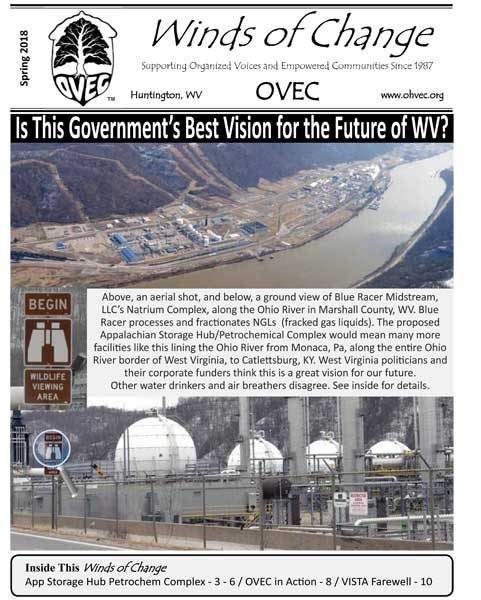 P.S. Now that West Virginians across the state are facing multiple major pipelines moving into construction phases, please sign on to this letter to FERC (Federal Energy Regulatory Commission) asking the agency to implement a Public Interest Pipeline Review process: http://bit.ly/FERCReviewForPublicInterest. Please ask your friends and family to sign, too! Please sign by April 4.
You are receiving this message because you indicated you wanted to receive the OVEC newsletter electronically. If you no-longer wish to receive the newsletter electronically or want to return to receiving the printed version of the newsletter, you can unsubscribe below or reply to this e-mail with a note about any changes you want to make. Thank you so much for your continued support!