The Fall 2020 issue of Winds of Change, OVEC's newsletter, is now online.
To read your copy, click here or on the image below.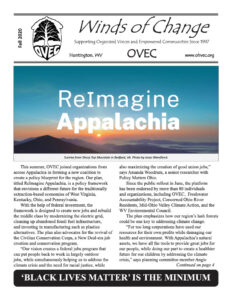 Also… Vote, vote, vote!
If you haven't voted already, please do vote tomorrow!
If you live in West Virginia, you can find your polling place here.
Do you have an absentee ballot you haven't sent in yet? Your ballot must be postmarked by tomorrow, Tuesday, November 3 and received no later than Monday, November 9.
You may also return your ballot in person to your county clerk by close of business, today, Monday, November 2, 2020. Although voters do not have to personally return his or her absentee ballot, no one person may deliver more than two voters' absentee ballots.
You can find ballot tracking information here.
You are receiving this message because you indicated you wanted to receive the OVEC newsletter electronically. If you no-longer wish to receive the newsletter electronically or want to return to receiving the printed version of the newsletter, you can unsubscribe below or reply to this e-mail with a note about any changes you want to make. Thank you so much for your continued support!