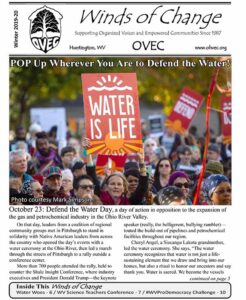 Seasons greetings from OVEC's staff and board of directors. This holiday season, we wish plenty of beauty, joy, and time with loved ones to help nourish your spirit! 
The Winter 2019-20 issue of Winds of Change, OVEC's newsletter, is now online. To access your copy, click here or on the image at left.
Please do give it a read to find out some of what we have been up to these past few months. We hope you will find our efforts worthy of your continued support and donations!
As you consider your year-end giving, please consider this: Double your donation dollars! If you donate now through December 31, 2019, Patagonia will match your donation (up to $10,000!). For OVEC to receive the matching donation you must donate through Patagonia's Action Works website at the Ohio Valley Environmental Coalition link, here.
If you use the Patagonia link, you could effectively triple your donation by earmarking it for our #WVProDemocracy challenge grant. If we can raise $5,000 from folks like you by December 31, then we will receive a $5,000 grant to support our WV Citizens for Clean Elections/Fair Courts work. As of this notice, we have raised $2,220 toward the $5,000 goal. Please note that in order for your donation to count towards this challenge grant, you will have to take the extra step of emailing info@ohvec.org to tell us the amount of your donation and that you want it earmarked for the #WVProDemocracy challenge grant.
We hope you do get some down time over the holidays, to rest up before the 2020 Legislative Session begins. Check out what WV E-Council will be up to during the session; we will need your help then!
We are so thankful for your support! Happy holidays!
P.S. Save the Dates:
January 14 – WVEC's Legislative Kick-Off Blast at the Empty Glass
January 21 – Huntington-Cabell Branch NAACP MLK Jr March
January 28 – WVEC's E-Day! at the State Capitol. If you would like to help out at OVEC's E-Day!  table, email info@ohvec.org. 
You are receiving this message because you indicated you wanted to receive the OVEC newsletter electronically. If you no-longer wish to receive the newsletter electronically or want to return to receiving the printed version of the newsletter, you can unsubscribe below or reply to this e-mail with a note about any changes you want to make. Thank you so much for your continued support!