The Fall 2018 issue of Winds of Change, OVEC's newsletter, is now online.
To read your copy, click here or on the image below.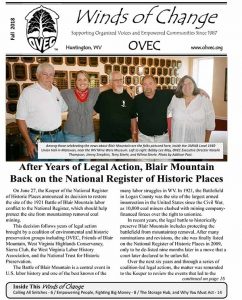 As you read our newsletter and see what we have been up to, please remember that your donations and membership dues help make our work possible.
E-mail info@ohvec.org or call the office at 304-522-0246 to check on your membership status. Use the button below to donate. Thank you!
You are receiving this message because you indicated you wanted to receive the OVEC newsletter electronically. If you no-longer wish to receive the newsletter electronically or want to return to receiving the printed version of the newsletter, you can unsubscribe below or reply to this e-mail with a note about any changes you want to make. Thank you so much for your continued support!