–
WV Criminal Justice Listening Project Press Conference
Monday November 18th
11am
Governor's Press Conference Room
WV State Capitol
RSVP on Facebook event or by emailing Rhonda Marrone at Rmarrone@stepbystepwv.org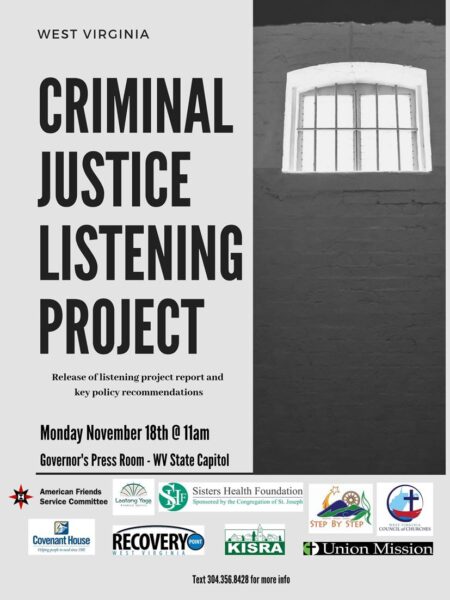 Please join a coalition of groups for the release of the Criminal Justice Listening Project Report!
The West Virginia Criminal Justice Listening Project collected stories about the criminal justice system from over two hundred people around the state. The majority of those interviewed have experienced incarceration or have had family members behind bars. The individuals surveyed shared their observations as pastors, volunteers, attorneys, correctional officers and staff of community re-entry programs.
Join us Monday, November 18th to hear directly from people interviewed for the project who continue to lead the charge for criminal justice reform, as well as the report's policy recommendations for the 2020 legislative session.
WV Criminal Justice Listening Project Press Conference
Monday November 18th
11am
Governor's Press Conference Room
WV State Capitol
RSVP on Facebook event or by emailing Rhonda Marrone at Rmarrone@stepbystepwv.org