–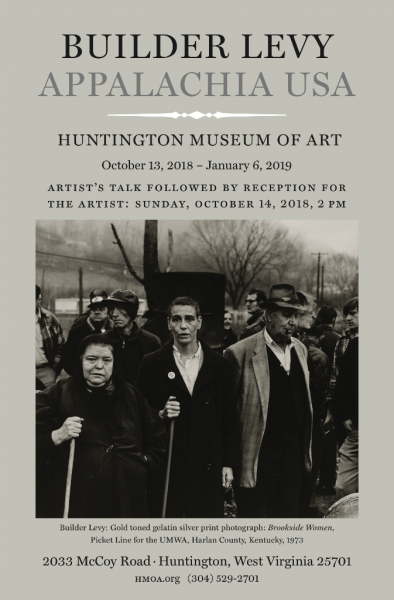 The opening reception for this exhibit took place on October 14 and included a presentation by Builder Levy. 
Appalachia USA is a unique documentary project by the New York-based photographer Builder Levy (b. 1942) that explores life and labor in coal mining communities in Kentucky and West Virginia during the span of 40 years. Builder is an OVEC member!
Levy's arresting black-and-white photographs connect us to the very heart of coal mining. He traces the indelible legacy of the coal industry on the lives and landscapes that define the region from scenes shot deep underground where miners toil at their difficult and often perilous work to the tops of mountains where explosives and heavy machinery extract coal and irrevocably alter the shape of the land.
Levy began this work in 1968 and continued documenting the region for more than 40 years. Previously, as a student in the 1960s, Levy had photographed civil rights marches and demonstrations — many of his shots were published in the journal Freedomways. He undertook the Appalachian project as a continuation of his commitment to civil rights and his interest in documenting the social landscape of America. In doing so, he hoped to dispel popular "hillbilly" stereotypes by presenting his subjects in a way that emphasizes their humanity and personality.
Appalachia USA attends to the turbulent politics of economics and labor that have revolved around coal mining in America as Levy documents the picket lines of striking miners and demonstrations by their families as they organize their communities to improve their standard of life, often in confrontation with powerful interests. Levy also challenges our preconceptions of Appalachian culture by bringing to our attention the racial diversity in the region's communities and in the coalfields.
Presented with support from The Isabelle Gwynn and Robert Daine Exhibition Endowment.
Thanks to the John and Mable Ringling Museum of Art for their assistance in developing educational content.
This program is presented with financial assistance from the West Virginia Department of Arts, Culture and History, and the National Endowment for the Arts, with approval from the West Virginia Commission on the Arts.
OVEC is proud to count Builder among our members!