Stop Trump's Dirty Energy Agenda; The Change Starts Here
Join the event on Facebook, share with friends and get more info and updates.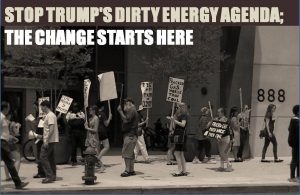 JOIN FOR A RALLY & DAY OF ACTION
8:30 AM
Federal Energy Regulatory Commission
888 First St, NE, Washington, DC 20426
Afternoon lobbying on the hill to begin around 11:30, starting with a lunch time gathering in the Lower Senate park next to the Russell Senate Office Building, the corner of D St. and Delaware Ave NE.
Day's Agenda
8:30am: Gather and Rally from 8:30 until 9:30 am
10:00am: Attendees encouraged to attend FERC's open public meeting which begins at 10 am
11:00 am (or thereabouts): At 11 am folks will be invited to grab a bag lunch and join together to drop in on Congressional offices to deliver the Stop Trump's Dirty Energy Agenda sign on letters.
11:30am: Over lunch at the park outside the Senate office buildings we will talk about the message and how to effectively drop in and drop off materials.
12:30pm: Head into congressional buildings to drop materials and ask for drop in meetings
2:45 pm: reconvene in the park outside Senate building to share your experience of the day
3:30 pm: head home feeling good that you have been part of delivering a powerful message of opposition to FERC, Trump's Dirty Energy Agenda, and advocating for reform and change.
Those who cannot rally or go into the FERC meeting but just want to lobby in the afternoon are welcome to simply meet us at the park at 11:30
People are also encouraged to set up meetings with their own House members and/or Senators. Contact Bridget at bridget@delawareriverkeeper.org for materials that can be left with those you meet with.
~~~~
We need a big showing at FERC's September meeting! We'll have a rally before the meeting begins and then we'll be inside the meeting, in overflow rooms, outside chanting, and some of us will even go to Capitol Hill to lobby. We'll be chanting, disrupting, showing solidarity, lobbying.
Here's why!
FERC is set to reconvene on September 20th with Trump's Senate-approved commissioners Robert Powelson and Neil Chatterjee eager to use their newly minted rubber stamps.
All of this is happening as the Senate and House are moving bills that would expand FERC's authority. One of the House bills actually strips the president of the border crossing authority used to stop Keystone XL and gives it to FERC. But the worst of the bills is the Senate Energy and Natural Resources Act of 2017, S. 1460. It expands FERC's authority by requiring other permitting agencies to "give deference" to FERC and it limits FERC's review of LNG facilities to 45 days.
Haven't they been reading the headlines? The same problems we've been telling them about for more than a year are starting to get some notice.
"Pallone & Cantwell Request Expanded FERC Investigation of Rover Pipeline & Its Parent Company"
"Court Rejects Pipeline Rubber-Stamp, Orders Climate Impact Review"
"Federal court rejects Constitution Pipeline's lawsuit against NY"
Rushed approvals, refusal to consider climate impacts, approvals with insufficient information. And Congress wants to expand FERC's authority?
No way! Unacceptable!
Will you help us send that message to FERC and Congress on September 20th?
Here's how YOU can help!
Organizations – please endorse our action here
Individuals – sign up to attend the rally and the other actions on the 20th here
Everyone – share the Facebook event here
RALLY, 8:30 a.m. at FERC, 888 First St NE, Washington, DC 20426
Program TBA – Stay Tuned!
FERC Meeting,10 a.m.
Lobbying on the Hill, meetings being scheduled – Be sure to indicate that you're interested in lobbying on the sign-up form.
Also see:  
FERC, the Climate Movement and September 20th